Blueberry spinach smoothie is a mildly sweet smoothie made with blueberry, spinach, rolled oats and greek yogurt. In this recipe, you can use fresh or frozen blueberry as per the availability.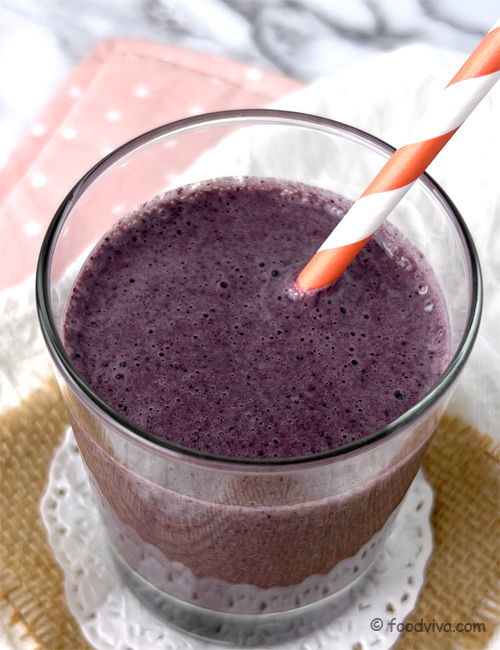 More Smoothie Recipes
Preparation Time:
5 minutes
Ingredients:
1 cup Blueberry (fresh or frozen)
3/4 cup loosely packed Spinach
1/3 cup Plain Greek Yogurt (or plain yogurt)
1/2 cup Milk (or any non-dairy milk or apple juice)
2 tablespoon Rolled Oats, optional
Directions:
Take all the ingredients to make this smoothie. In this recipe, we have used frozen blueberry.

Add 1 cup fresh or frozen blueberry and 3/4 cup loosely packed spinach in the jar of a blender.

Add 2 tablespoon rolled oats, 1/3 cup plain greek yogurt and 1/2 cup milk.

Close the lid and blend on high speed until smooth and creamy.

Blueberry smoothie with spinach is ready.
Tips and Variations:
Add 1/2 banana is added to sweeten the smoothie.
To add more protein, add 2 tablespoons peanut butter or almond butter.
For variation, add 1 tablespoon flax seeds powder and 1 teaspoon chia seeds.
Serving Ideas:
  Serve blueberry spinach smoothie for breakfast.