Kale, a green everyone must learn to eat in everyday diet, is a nutritious leafy green having multiple health benefits. Kale Smoothie is a one best way to start acquiring its taste and then making it an everyday part of healthy diet. Follow this recipe and tips given below to learn more about kale and how to make healthy beverage from it.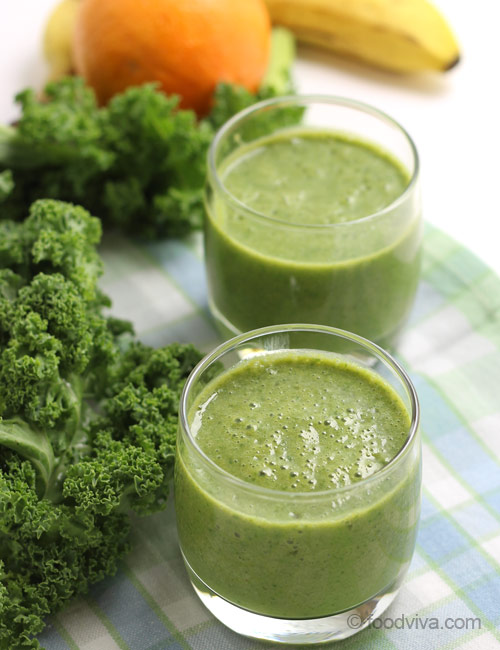 More Smoothie Recipes
Preparation Time:
10 minutes
Ingredients:
1 cup chopped Kale Leaves (approx. 2 small kale leaves)
1/2 large or 1 small Banana, peeled and chopped
1 Orange
1/2 cup Soy Milk or Almond Milk or Milk or Any Juice or Water
2 Ice Cubes, optional
Directions:
If possible, use organic kale leaves to make the smoothie. Wash the kale leaves and pat dry them. Remove stems and tear kale leaves into medium pieces.

Peel the orange and cut into medium pieces. In this recipe, almond milk is used. However, you can use any milk (eg. rice milk or soy milk or dairy milk)or any juice (eg. pineapple juice or orange juice) of your choice or water instead of almond milk.

Pour almond milk in a blender jar. Add banana and orange.

Add kale leaves.

Blend in a blender until smooth. Check the consistency of mixture, if it is too thick then add more milk.

Add ice cubes and blend it again on high speed to prepare slushy mixture. Pour it into serving glasses. Healthy kale smoothie is ready. Serve immediately.
Tips and Variations:
Kale has a stronger raw taste and it's difficult to mask it with other ingredients. If you are not an avid greens junkie, then start by 1-2 leaves of it and then slowly increase it's quantity in subsequent preparations as you get acquainted with its taste.
Do not keep this beverage idle for long time. Its nutritional values will start to dwindle and it starts to thicken up into a gel-like consistency as time goes, depriving you of its health benefits and reducing its palatability.
Taste:
Fruity taste of banana and orange with strong and sensational flavor of kale.
Serving Ideas:
Drink it daily to get all health benefits of it. It is a best way to give raw green vegetables in a smoothie to your kids.