Incredible cucumber, apple and kale leaf blended with yogurt in a smoothie is treat to your taste buds and satisfaction to your palate. This low fat, high nutrition cool cucumber smoothie is a delectable blend of juicy and tender cucumber, sweet apple, nutritious kale and low fat yogurt.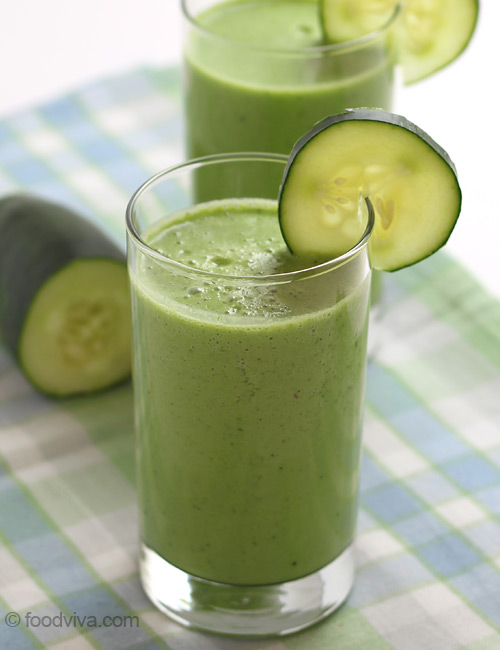 More Summer Recipes
Preparation Time:
10 minutes
Ingredients:
1/2 medium Cucumber, diced
1 leaf of Kale or 1 cup Spinach)
1/2 large Apple or Pear, cored and diced
1/2 cup Low Fat Plain Yogurt
1/4 cup Milk or Water or Orange Juice
2 Ice Cubes
1/2 tablespoon Honey or Sugar (or to taste)
Directions:
If the cucumber has hard skin and seeds, peel it and remove the seeds. Dice the cucumber and apple. Remove the stem from kale and tear into large pieces.

Pour milk and add yogurt in a blender jar.

Add apple and kale pieces.

Add cucumber pieces, ice cubes and honey.

Blend until smooth and frothy texture. Pour it into serving glasses, garnish with slice of cucumber and serve.
Serving Ideas:
Serve this healthy drink as an afternoon beverage or in the breakfast. Cucumber contains good amount of water and other minerals and are most enjoyable during summer.