Raw Green Smoothie Recipe
Raw green smoothie, a highly nutritious and energy rich green vegetable and fruits drink, is an easy to prepare and palate satisfying experience. Apart from spinach, mint and various fruits, this recipe also uses kale, an antioxidant, anti cancer nutrients rich leafy vegetable. Learn how to make it with this simple recipe and experience the incredible and divine taste of raw vegetables and fruits.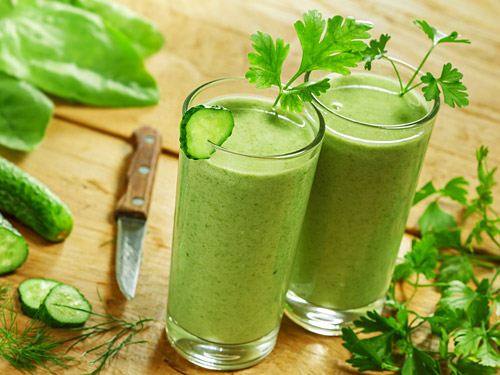 More Smoothie Recipes
Preparation Time:
10 minutes
Ingredients:
3/4 cup chopped Fresh Kale
1 Banana, peeled and chopped
1 Pear, peeled, cored and chopped
1 cup Fresh Pineapple chunks
1/2 cup chopped Baby Spinach
1/4 cup Mint Leaves (optional)
1 cup Fresh Orange Juice
1½ cups Water
Directions:
Fill the blender jar with chopped kale, chopped banana, chopped pear, fresh pineapple chunks, chopped baby spinach and mint leaves.
Pour water and orange juice over it and blend until smooth texture.
Check the consistency of drink. add more water or orange juice to reduce the thickness or add more bananas to thicken it and blend again until smooth.
Fresh and healthy raw green smoothie is ready. Pour it in chilled serving glasses, garnish with cilantro/coriander leaves and serve.
Tips and Variations:
Do not keep prepared smoothie idle for long time. Over time its starts to lose its nutritional values.
Taste:
Mild sweet and tart with nice flavor of mint, spinach and kale.
Serving Ideas:
It is an ideal drink to serve in the breakfast to get high energy at the start of the day which will keep you going all through the day.