When banana and spinach, one of the best fruits and vegetables in their respective classes, are blended with fresh orange juice, a rejuvenating and refreshing banana spinach smoothie is born. The smoothie prepared with this recipe has more banana flavor than that of spinach because former has the stronger taste.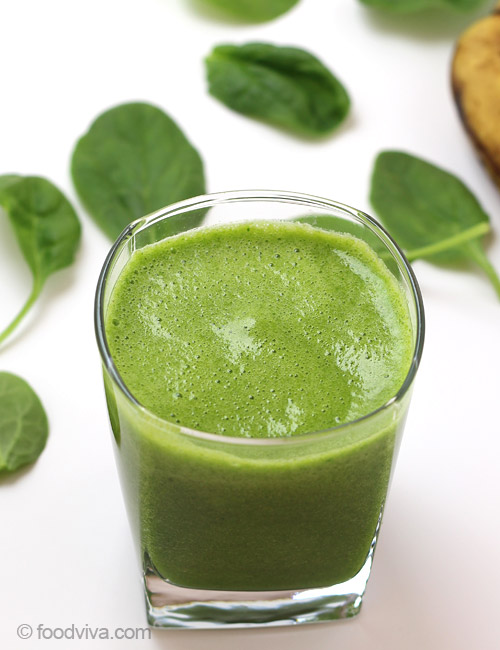 More Smoothie Recipes
Preparation Time:
10 minutes
Ingredients:
2 cups Spinach, cleaned (approx. 1/2 small bunch)
1 fresh or frozen Banana, peeled and sliced
2 Oranges or 1/2 cup fresh Orange Juice or 1/2 cup Pineapple juice
2 Ice Cubes, optional
Directions:
Clean the spinach and peel and slice the banana. Cut oranges into halves and squeeze out juice using citrus fruit juicer.

First, pour orange juice in a blender jar.

Add sliced banana and baby spinach.

Add ice cubes and blend until smooth puree. Pour prepared smoothie into a serving glass and serve immediately to get maximum nutrients.
Tips and Variations:
In this recipe no sugar or honey is added to prepare the green spinach and banana smoothie for weight loss. However, if you want more sweet taste, add 1-2 teaspoons honey.
If your taste buds are not accustomed to tart taste of raw spinach, then use less amount of it initially and then slowly work your way up.
Taste:
Sweet taste of banana and orange with mild tart flavor of spinach.
Serving Ideas:
Serve it in breakfast to start your day on a healthy and energetic note.