All fruit juices can be quickly absorbed by body and provides an instant relief and energy. Revitalizing green apple juice prepared from green apples and celery is no exception to this; it quickly provides vitamins and nutrients to body making you feel refreshed recharged. This easy to prepare, easy to digest homemade apple juice recipe is an ideal healthy summer drink.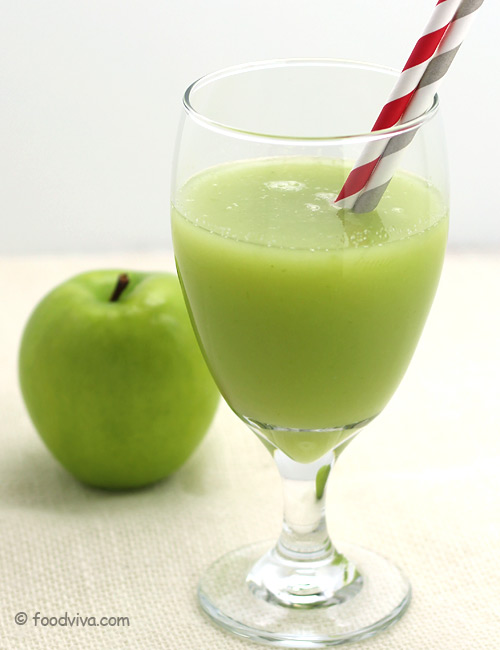 More Juice Recipes
Preparation Time:
5 minutes
Ingredients:
1 Green Apple
1 stalk of Celery or 1/3 Cucumber
1/4 cup Water
1 teaspoon Honey, optional
Note:
You can add a cup of green spinach or 1-kale leaf along with other ingredients to make a healthier variant.
Directions:
Wash apple and celery in running water and pat dry them.

Cut apple into medium pieces and remove the core. Cut celery into medium pieces.

Add apple and celery in a blender jar. Pour 1/4 cup water. Water is required to move all ingredients freely. If required, you can add up to 1/2 cup water.

Blend them until smooth puree.

Place a fine metal strainer over a large bowl to strain the juice. Pour the prepared juice over it. You can also use cheesecloth or nut milk bag to strain the juice.

Press the pulp with a rubber spatula or a metal spoon to get as much juice as possible. Discard the remaining pulp.

Add honey and stir with a spoon. Tangy and healthy green apple juice is ready to serve.
Tips and Variations:
If you don't like the tart taste, add honey (as per your taste) and one sweet apple along with other ingredients.
Taste:
Revitalizing tart taste of apple
Serving Ideas:
It enhances the healthy breakfast. Serve it chilled as a cool afternoon summer drink to kids.