Fresh spinach juice made with apple is far more pleasurable and drinkable compared with plain and pure juice of spinach. It is known for its cleansing abilities as it purifies the blood and eliminates accumulated toxins from the cells and if that's not all, it also helps to regenerate and rebuild the body. Follow this simple and easy recipe to make detoxifying juice at home.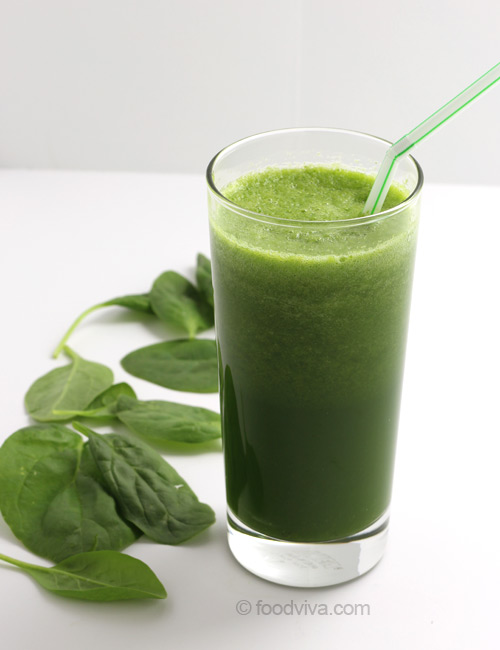 More Juice Recipes
Preparation Time:
10 minutes
Ingredients:
2 cups chopped Spinach, tightly packed
1 Apple or Pear, cored and chopped
1 stalk of Celery
Juice from 1/2 Lime or Lemon (or to taste), optional
3/4 cup Water
Directions for making Juice in a Blender (without Juicer):
Wash and clean the spinach, apple and celery. Cut apple and celery into large pieces.

Pour 3/4 cup water in a blender jar. Add apple and celery.

Add spinach and juice from lemon.

Blend in a blender until smooth.

Make sure that there are no chunks of fruits.

Place a fine mesh juice strainer (or sieve) over a large container and pour prepared juice mixture over it.

Press the pulp down with a spatula to get the maximum juice out of it. Discard the pulp.

Pour prepared juice into a serving glass and serve.
Directions for making Juice using Juicer:
Keep a glass or container under nozzle of juice extractor.
Process spinach, celery and apple through juicer.
Mix lemon juice with extracted juice and pour into a serving glass, garnish with apple wedge and serve it for immediate consumption.
Tips and Variations:
Choose fresh and dark green spinach for best results.
If you don't like the flavor of only spinach, then mix any other green vegetables like cucumber, beet, tomato, carrot, etc. to prepare a flavorful healthy drink.
Taste:
Tart and mild sweet
Serving Ideas:
To get maximum benefits of spinach juice, it is recommended to have it once or twice a week in the morning. It is also recommended for healthy hair growth, glowing skin and to detoxify the body.