Beetroot, a wonderful vegetable, helps maintain good cardiovascular health. It has been scientifically proven that beetroot juice helps in lowering high blood pressure and hence helps preventing cardiovascular problems. Apart from this most notable benefit, there are many other benefits of it as well, which puts it in the category of one of the healthiest juice recipes. It is a simple mix of red beetroot, apple and celery.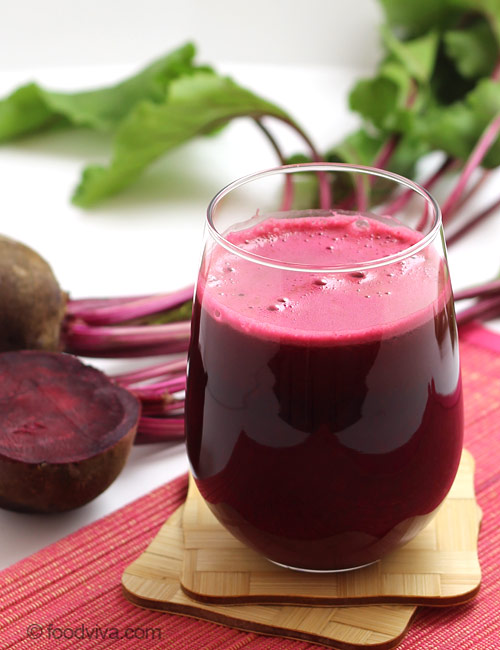 Preparation Time:
10 minutes
Ingredients:
1 small red Beetroot
1 large Apple (or 2 small apples)
2 Celery stalks
1-2 Carrots
1/2 Lemon or Lime
1/2 inch small piece of Ginger, peeled
Directions:
Wash all vegetables and fruits in running water and pat dry them.

Peel and cut beetroot into long slices. Cut apple into long pieces and remove the core. Peel and cut carrot into long pieces. Cut celery into long pieces.

Put glass or container under the nozzle of a juicer and turn it on.

Process all ingredients (beetroot, apple, carrot, celery, ginger) except lemon alternatively through juicer.

Squeeze the half lemon into prepared juice and stir well. Pour it into chilled serving glass and serve. Drink it immediately.
Tips and Variations:
Choose a small and firm beetroot. Also, we used sweet apple but you can use any type of apple of your choice.
Pure beetroot juice is very strong; always mix it with some other fruit or vegetable juice to potentially avoid any side effects.
If you are using organic veggies and fruits, don't peel them.
Taste:
Sweet and refreshing
Serving Ideas:
Serve it in the breakfast to get a refreshing and healthy change from routine apple and orange juices. It helps lower high blood pressure and it's a recommended drink for high BP patients. Drink it regularly to prevent any cardiovascular problems from occurring.