Carrot beet juice is a heavenly combination of healthy and juicy beet, carrot and ginger. This recipe also uses refreshingly aromatic fresh lime juice, which makes it one of the best vegetable juices. Whether you are planning to make carrot and beet juice for its health benefits or just for thirst quencher nutrient rich drink, its surely going delight your taste buds.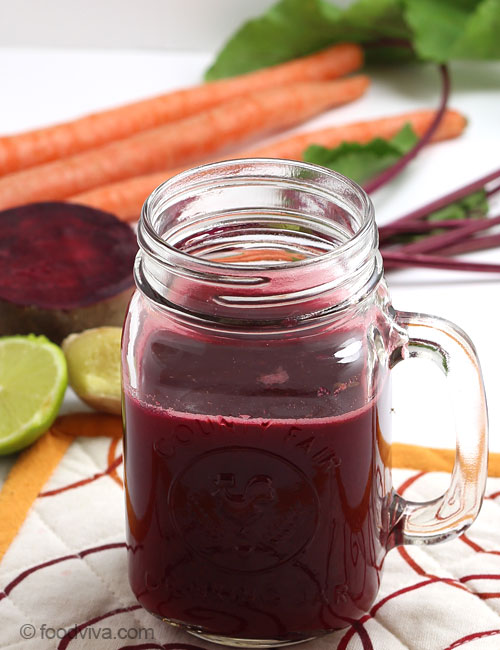 More Juice Recipes
Preparation Time:
10 minutes
Ingredients:
1/2 medium Beet, peeled and chopped
4 Carrots, peeled and chopped
1/4 inch piece of Ginger
1/2 Lemon or Lime
1/2 cup Water
Directions For Making Juice Without Juicer :
Wash carrot and beetroot in running water and pat dry them.

Peel and cut beetroot and carrot into small pieces. if you are using organic carrots, no need to peel them.

Pour 1/2 cup water in the jar of a blender. Add carrot, beetroot and ginger. Squeeze lemon over it

Blend in the blender until smooth.

Place a fine mesh sieve over a large bowl and pour prepared mixture over it. You can also use a cheesecloth or a nut-milk bag to strain the juice.

Press the mixture with spatula to get maximum juice out of it. Discard the pulp.

Carrot Beetroot Juice is ready for serving. Drink it immediately to get maximum nutrients.
Directions For Making Juice With Juicer :
Process chopped beetroot, carrot, and ginger thorough juicer and collect juice in its container.
Squeeze lemon in it and stir well. Fill up serving glass with the juice and serve.
Tips and Variations:
Add 1-stick of celery and 1/2 apple for variation.
Add a pinch of salt and black pepper powder for extra taste.
Serving Ideas:
It is a perfect fruit and vegetables drink to serve in the breakfast. Blend crushed ice cubes along with other ingredients in mixer and serve it as cool afternoon drink during summer.