All cooking ingredients are measured with Metric style measuring cup set (1 cup = 250 ml ) size in all recipes on this website.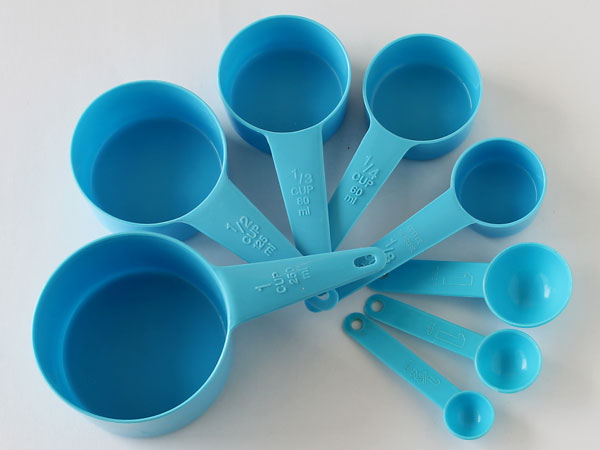 Measuring cup set is an important utensil to have in the kitchen and it is always recommended to use it for all new recipes that you are trying. To get the best cooking results for recipes specified on our website, it's necessary to measure all ingredients with metric style measuring cups and spoons and have them placed in the order of use (typically in the order of ingredients specified in the table) before starting on the directions. This will make cooking easier, reduce the chances of forgetting to add/use key ingredients and most importantly, loosing critical time in finding the ingredient while cooking process is already underway and recipe demands adding next ingredient at very specific stage and not over cooking.
Common Conversions from Cups to Tablespoon and Teaspoon
You can see the different types of spoons and cups in the photo given above. The typical cooking measuring cup sizes are 1 cup, 1/2 cup, 1/3 cup, 1/4 cup and 1/8 cup. The typical spoon sizes are 1 tablespoon, 1/2 tablespoon, 1 teaspoon, 1/2 teaspoon and 1/4 teaspoon. The jug (large container with measurement indication) is generally used for measuring liquid ingredient in large quantities. Sometimes, it's easy to misplace parts of measure sets and following conversion information will help you derive the correct size.
Common Cups to Tablespoons and Teaspoons Conversion Chart
1 cup
16 Tablespoon
1/2 cup
8 Tablespoon
1/4 cup
4 Tablespoon
1/8 cup
2 Tablespoon
1 Tablespoon
3 Teaspoon
1/2 Tablespoon
1.5 Teaspoon
1 Pinch
1/8 Teaspoon
How to Measure Dry Ingredients?
To measure dry ingredients like flours, sugar, semolina, spices powder, etc., fill the measuring cup or measuring spoon with the ingredient up to brim and then level it with back edge of a knife or a spatula.

Many dry ingredients, such as granulated sugar, are not very compressible, so volume measures are consistent. However others, notably flour, are more variable. For example, 1 cup of all-purpose flour sifted into a cup and leveled with technique mentioned above weighs about 100 grams, whereas 1 cup of all-purpose flour scooped from its container and leveled weighs about 140 grams. Wherever required, our recipes also mention to use compressed or uncompressed quantities.

Using a measuring cup to measure bulk foods, which can be compressed to a variable degree such as chopped vegetables or shredded cheese leads to large measurement uncertainties and it is recommended to chop the vegetables and fruits into pieces for a correct measure.
Conversion Chart for Typical Dry Ingredients Used In Our Recipes
Name
1 cup Equals
1/2 cup Equals
Whole Wheat Flour
120 gm
60 gm
Maida (all purpose flour)
120 gm
60 gm
Gram Flour (besan)
150 gm
75 gm
Semolina
200 gm
100 gm
Raw Rice (uncooked)
200 gm
100 gm
Lentils (dals)
200 gm
100 gm
Granulated Sugar
200 gm
100 gm
Powdered Sugar
120 gm
60 gm
How to Measure Liquid Ingredients?
To measure liquid ingredients specified in quantity higher than a cup, place a measuring jug (large cup) on flat surface, pour the liquid in it and check it at eye level to measure. To measure liquid ingredients specified in quantity smaller than cup, use tablespoons, teaspoons and smaller cups (1/2 cup, 1/4 cup, 1/3 cup).
Conversion Chart for Liquid
1 cup
250 ml
3/4 cup
188 ml
2/3 cup
165 ml
1/2 cup
125 ml
1/3 cup
83 ml
1/4 cup
60 ml
1/8 cup
30 ml
1 tablespoon
15 ml
1/2 tablespoon
7.5 ml
1 teaspoon
5 ml
1/2 teaspoon
2.5 ml
Where to Buy Measuring Cup Sets?
You can easily buy measuring cup sets and spoons from local utensil store or from online store.