Refreshing and healthy carrot apple ginger juice is not only energizing but easy to prepare as well. This fruit and vegetable juice is rich in multivitamins, beta-carotenes and antioxidants that cleans digestive system from toxins as well as helps body fight against cancer and many other diseases. This recipe uses lemon and salt that balances out the sweet taste of apple making it more palatable and fun to drink.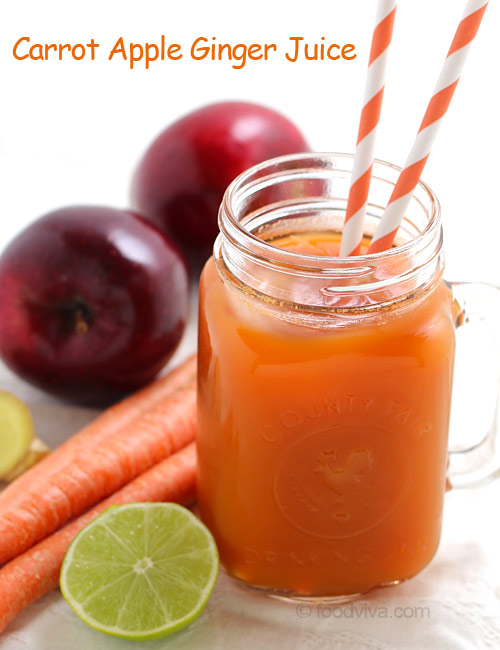 More Juice Recipes
Preparation Time:
5 minutes
Ingredients:
1 large Apple, cored and chopped
5 Carrots, peeled and chopped
1/2 inch long piece of Ginger, peeled and chopped
1/2 Lemon or Lime
3/4 cup Water
Directions for Making Juice without Juicer:
Wash carrots and apple in running water and dry them.

Cut apple into medium pieces and remove the core. Peel the carrot and dice into medium pieces. If you are using organic carrot, no need to peel them.

Pour 3/4 cup water in a blender jar or a food processor jar or a mixer grinder jar. Water is needed to puree all solid ingredients.

Add apple pieces.

Add carrot pieces and ginger.

Blend until smooth puree in the blender.

Line a cheesecloth or a large fine mesh over an empty large bowl and pour prepared puree over it.

Gather all sides of cheesecloth towards upward and squeeze to get the maximum juice out of the pulp.

Discard the fibrous pulp (as shown in the photo).

Squeeze the lemon over collected juice and stir with a spoon. Fill up serving glasses and enjoy.
Directions for Making Juice using Juicer:
Process apple pieces and carrots alternatively through a juicer. Process a piece of ginger through it and collect the juice in a container.
Squeeze out the lemon juice over collected juice.
Fill up serving glasses and enjoy.
Tips and Variations:
As time passes, juice will start loosing its nutritional values due to oxidation. Hence, drink it immediately after preparation to get all of its benefits.
Juice 2 stalks of celery along with other ingredients and get additional benefits of it.
Add a spoonful of honey to make sweet but sugar free apple carrot juice with ginger and lemon.
Taste:
Its taste can vary from sweet to mild sweet based on type of carrot used. The apple and ginger adds a sweet and spicy zest.
Serving Ideas:
Healthy and nutrient rich carrot apple and ginger juice can quickly energize and replenish body with nutrients lost during workout. Have it regularly and let your hair and skin enjoy all benefits of it without adding any carbs in your body. Serve it in the breakfast.