Spinach has high amount of iron, calcium and vitamins and many other minerals and there are two ways to get it all, either eat boiled spinach or drink its juice. This carrot spinach juice recipe combines its goodness with that of carrot and celery and makes a more appealing and pleasurable tasting juice compared to the pure one. The process used in this recipe is simple to follow and preservers all nutrients of all ingredients.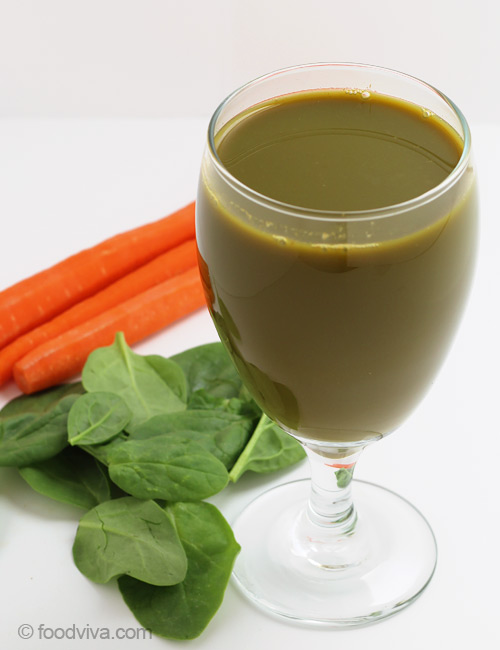 More Juice Recipes
Preparation Time:
10 minutes
Ingredients:
6 medium size Carrots, peeled and chopped
1 large bunch Spinach (approx. 2 cups, tightly packed), rinsed and chopped
1 Celery stalk, optional
1/2 Lemon or Lime
1½ cups Water
Directions for making Juice without Juicer:
Clean the spinach and cut celery and carrot into large pieces.

Add carrot, celery and 1½ cups water in the large jar of a mixer grinder or a blender.

Blend it until puree.

Add spinach and juice from 1/2 lime over it.

Blend again until smooth puree.

Pass the prepared puree through a strainer to extract the juice. You can also use a cheesecloth to strain the juice.

Discard the pulp.

Pour prepared juice into serving glasses and serve. Drink it immediately to get maximum nutritional benefits.
Directions for making Juice using Juicer:
Put container under juicer spout. Process carrots, celery, spinach and lime through it and collect the juice.
Fill serving glasses with celery, carrot and spinach juice and serve. Drink it immediately before its nutrients starts to vanish.
Tips and Variations:
Do not drink it daily. Limit it to only once or twice a week for best health benefits.
Add a pinch of salt and/or black pepper powder to make it tastier.
Taste:
Mild sweet taste of carrot with natural tartness of spinach.
Serving Ideas:
This juice is recommended by doctors to have it on regular basis for curing constipation issues and cleans your body and skin of toxins. However, Do not take it if you have kidney stone problems as it may aggravate the problem.