Orange Juice with Pulp is more nutritious than its plain counterpart. It is very easy to prepare at home in just few minutes using either electric or hand citrus fruit juicer and it tastes really fresh. Here is the simple recipe to prepare it in just a few minutes.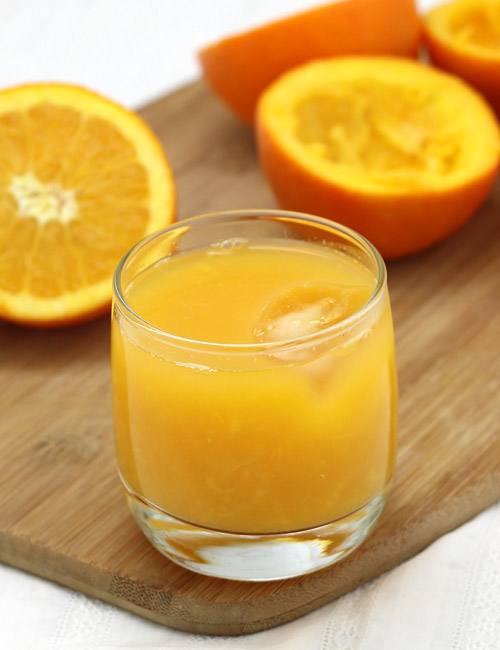 More Juice Recipes
Preparation Time:
10 minutes
Ingredients:
3 Fresh oranges (regular size)
2 Ice Cubes
Directions:
Rinse oranges and pat dry them. Roll them on flat surface with little pressure to soften them and get juice easily. Cut them into halves crosswise.

Place each half on a electric or hand citrus juicer, press and twist to get juice. You can also squeeze out juice with your hand by squeezing it like lemon.

Remove seeds and pour it into chilled serving glass. Add ice cubes and garnish with orange wheel, serve chilled
Tips and Variations:
If you do not like pulp, then strain it through sieve.
Add a pinch of salt and black pepper for nice taste and flavor.
Taste:
All natural juice with chewy pulp.
Serving Ideas:
Natural pulpy orange juice should be enjoyed on its own. However, you can use it as an ingredient to various other non-alcoholic and alcoholic drinks. Pulp brings natural fibers along with it making it ideal for toddlers and kids.