Orange Juice Smoothie, a smoothie prepared with seasonal fruits of your choice and orange juice is a delicious and healthy non-alcoholic fresh fruit drink suitable for parties and kid's celebrations. This recipe mixes orange juice with mango and banana to make sweet and tangy drink that can elevate your mood to a new high. However, you can use any other fruit of your choice to make titillating smoothie.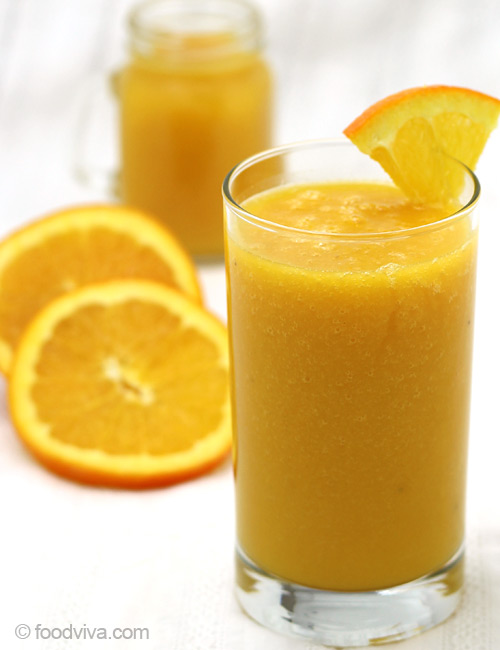 More Smoothie Recipes
Preparation Time:
10 minutes
Ingredients:
3/4 cup Fresh Orange Juice (or approx. 2 Oranges)
1/2 frozen Banana, sliced
1/2 cup fresh or frozen Mango chunks (or Strawberries)
2 Ice Cubes
Directions:
Squeeze out the juice from fresh oranges. Peel and slice the banana. Peel the mango, remove stone and cut into large chunks. You can also use frozen fruits if fresh ones are not available.

Add sliced banana and mango chunks in a blender.

Add fresh orange juice and ice cubes.

Blend until there are no whole fruit chunks. Orange juice smoothie is ready. Pour it into a serving glass and serve.
Tips and Variations:
If your blender is not powerful, add crushed ice instead of whole ice cubes.
To make thick smoothie, use frozen fruits instead of fresh ones.
Smoothie has enough sweetness from fruits, however if you want more sweet taste, add 1 teaspoon honey.
Taste:
Mixed fruit drink with taste tilted towards orange.
Serving Ideas:
Enjoy this smoothie on its own or with dry snacks in the evening or party.