Strawberry Banana Yogurt Smoothie is a fusion of strawberry, banana and yogurt in a lip smacking icy chilled fresh fruit drink suitable to be served to kids and adults at anytime of the day. This unique recipe of strawberry smoothie combines fruity flavor of banana and strawberries with yogurt and milk to make one of the best creamy yet low fat beverages you can ever have.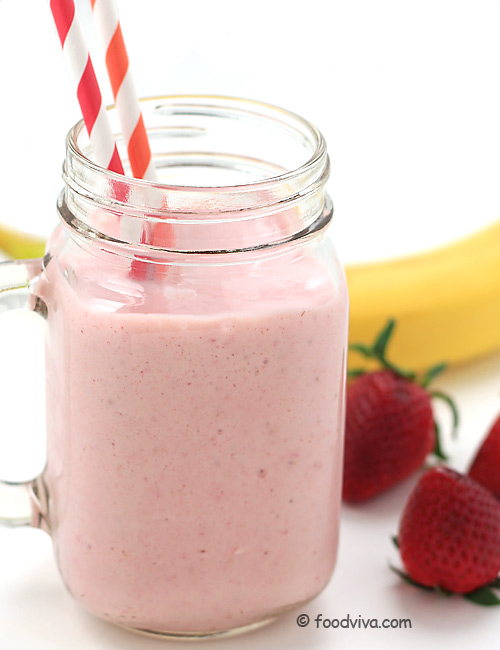 More Smoothie Recipes
Preparation Time:
10 minutes
Ingredients:
1 cup halved Strawberries (fresh or frozen)(approx. 10 strawberries)
1 Ripe Banana, peeled and sliced (fresh or frozen)
1/2 cup Low Fat Plain Yogurt (curd or greek yogurt)
5-7 drops Vanilla Extract (optional)
2-3 teaspoons Honey or Sugar (or to taste)
1/2 cup Low Fat Milk
Directions:
Add halved strawberries in the jar of a blender.

Add sliced banana.

Add plain homemade yogurt (or plain greek yogurt).

Add vanilla extract and honey.

Pour milk over it.

Blend them together until smooth puree. Strawberry banana smoothie with yogurt is ready. Pour it into serving glasses.
Tips and Variations:
You can also use vanilla yogurt or strawberry yogurt instead of plain yogurt in this recipe. If you are using vanilla yogurt, skip adding vanilla extract and reduce the amount of honey to 1 teaspoon.
Serving Ideas:
This smoothie is enjoyable healthy drink on its own. It can also be served in breakfast or as a dessert. Serve it to kids as a healthy alternative to fizzy drinks.