Banana and milk are rich source of calcium and smoothie prepared with them can provide the majority of body's daily need of calcium in single go. Banana smoothie without yogurt is a nutritious and calcium rich drink prepared by using just three ingredients, banana, milk and honey. This recipe carefully avoids the use of ice as well as ice cream to make it suitable for kids. However, if you are not making it for kids, then you can add ice in its preparation.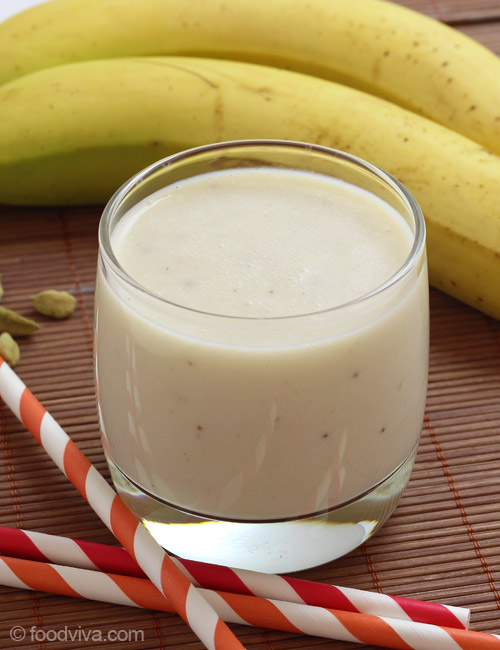 More Smoothie Recipes
Preparation Time:
5 minutes
Ingredients:
1 large Banana
1 cup Milk
2 teaspoons Honey
A pinch of Cardamom Powder or 2-3 Saffron strands, optional
Directions:
Peel and chop banana into big pieces.

Add banana, milk, cardamom powder and honey in a blender jar.

Blend until smooth and there are no fruit chunks. Yogurt-less banana smoothie for kids is ready. Pour it into serving glass, garnish with banana wheel on the rim and serve.
Tips and Variations:
Do not add ice cubes, sugar or ice cream while preparing it for toddlers.
Add a pinch of mace powder instead of cardamom powder for variation.
Use of cardamom powder /saffron is optional, you can avoid it if you want to.
Adjust the quantity of milk to make it thick or thin accordingly.
Serving Ideas:
The absence of ice, yogurt and ice cream in this smoothie makes it suitable to be served in the breakfast as healthy drink. However nothing can stop you from having anytime you like it.