When temperatures start to soar and become unbearable in summer, cool off with a chilled smoothie prepared with peach, banana and milk. Unlike other smoothie recipes, this recipe prepares peach smoothie without yogurt and replaces it with banana to bring in smoothness.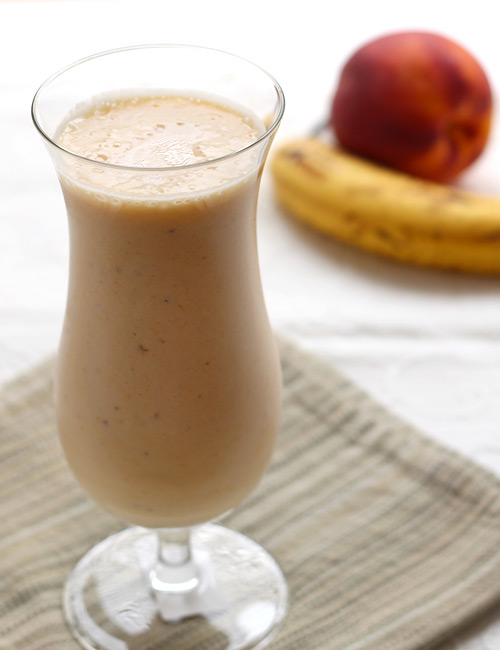 More Smoothie Recipes
Preparation Time:
10 minutes
Ingredients:
1 large frozen Banana, chopped
1 large fresh Peach, peeled, seeded and sliced
1/2 cup Low Fat Milk or Peach Nectar
A dash of Vanilla Extract, optional
2 teaspoons Sugar (as per your taste)
1/3 cup Crushed Ice or 2 Ice Cubes
Directions:
Add peach slices, frozen banana pieces, milk, a dash of vanilla extract and sugar in a blender jar.

Blend them until smooth. Add crushed ice and blend again for a minute. Pour prepared banana peach smoothie into serving glasses and serve.
Tips and Variations:
If seasonal fresh peaches are not available, then replace them with frozen or canned ones.
You can add more milk to dilute the smoothie.
Serving Ideas:
Serve yogurt-less peach smoothie in the breakfast for flavorful start of the day. Cool your body and give it a shot of energy in hot summer with glass of this creamy smoothie.