Grapes are at its best during spring. Sweet, juicy and crisp red grapes can be used to make tempting banana grape smoothie. This easy and healthy smoothie recipe combines and preserves the nutrients and vitamins of grape with those of banana and adds goodness of milk and yogurt. Savor this chilled beverage on hot summer day and your taste buds won't stop tanking you.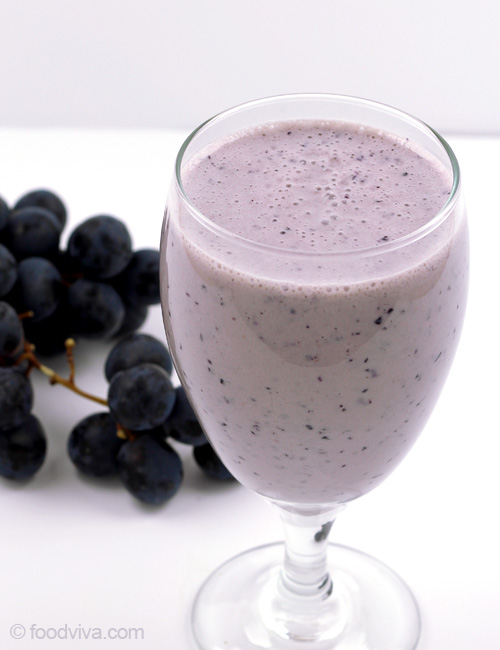 More Smoothie Recipes
Preparation Time:
7 minutes
Ingredients:
1 cup seedless Black or Red Grapes
1 frozen Banana, sliced
1/4 cup Milk
1/3 cup Yogurt
Directions:
Add grapes and frozen banana in a blender jar.

Add milk and yogurt.

Blend until smooth puree. Pour prepared smoothie into serving glasses and serve.
Tips and Variations:
In this recipe, frozen banana is used. If you are using fresh banana, add 4 ice cubes.
Taste:
It is simply heaven, the perfect blend of sweet and tangy taste of grapes with smooth banana.
Serving Ideas:
Serve smoothie prepared with grape, banana and yogurt as a healthy breakfast beverage.