Apple banana smoothie prepared with this recipe is like first love, have it once and you will never forget its smooth taste. The beauty of this recipe is that it prepares zesty smoothie without milk and yogurt but instead uses orange juice to get perfect blend. Just take a sip of it and you will never want it to end. So what are you waiting for? Make a lip smacking and delightful fruit smoothie in minutes with this easy recipe.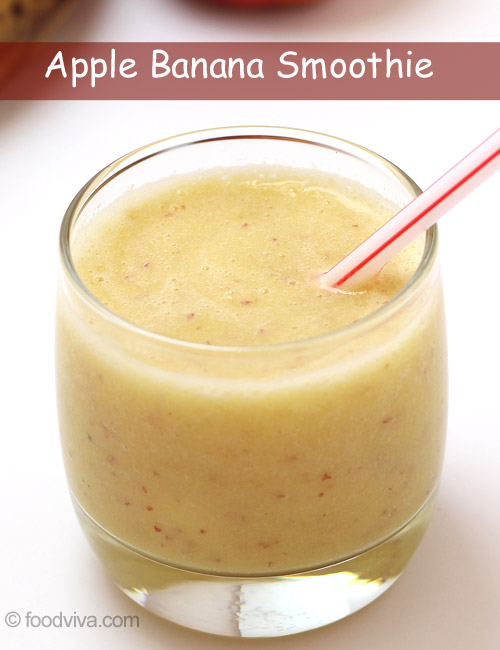 More Smoothie Recipes
Preparation Time:
10 minutes
Ingredients:
1 medium Gala Apple, peeled and chopped
1/2 large Banana (fresh or frozen), peeled and chopped
1/2 cup Orange Juice or Milk
2 Ice Cubes, optional
Directions:
Cut apple into large pieces. If you like, peel the apple before using. Peel banana and cut into large pieces.

Pour orange juice into a blender jar.

Add apple, banana and ice cubes.

Blend until smooth puree. Pour prepared banana apple smoothie into a chilled serving glass and serve. It will turn brown after some period, so drink it immediately to get maximum nutrients.
Tips and Variations:
If you don't like pieces of apple skin in the smoothie, peel the apple before using.
Use frozen banana instead of fresh one to make thick smoothie.
Taste:
A unique combination of sweet, mild sour and creamy taste
Serving Ideas:
Serve it as a dessert or with snacks in the afternoon.