Homemade Tomato Juice Recipe
Homemade Tomato Juice can have better taste than ready-made canned juice of tomato as its preparation can be customized to suit your needs. Apart from ripe tomatoes, this recipe uses onion, celery, bay leaf, and paprika and requires all ingredients to cook on low heat for 25-30 minutes to allow all flavors to merge and make it delicious.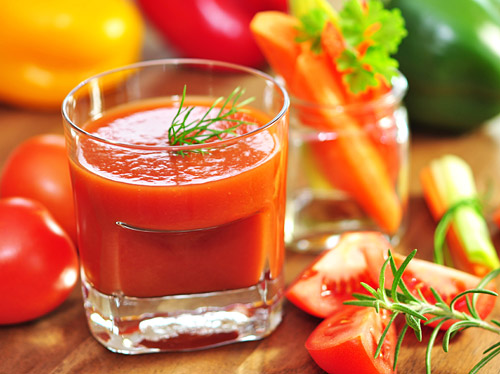 Preparation Time:
5 minutes
Ingredients:
12 medium size Ripe Tomatoes
1 small size Onion, coarsely chopped
1 cup chopped Celery with Leaves
1 Bay Leaf
1/4 teaspoon Paprika
1/2 teaspoon Sugar
Salt to taste
Directions:
Core tomatoes (just remove its top green part) and cut them into thin wedges.
Add tomatoes, chopped onion, chopped celery, bay leaf, sugar, paprika and salt in a non-reactive pot.
Cook uncovered on low heat for around 25-30 minutes or until tomatoes become soft and mixture is juicy. Stir in between occasionally.
Remove and discard bay leaf from the mixture. Force the prepared mixture through fine sieve to get juice and discard the solids. You can also puree the mixture in a blender and strain through sieve.
Chill the mixture for 2-3 hours before serving.
Pour prepared tomato juice in chilled serving glasses, garnish with lemon wedge or as desired and serve.
Tips and Variations:
You can use green pepper or ground black pepper instead of paprika.
Taste:
Tangy and mild spicy drink with aftertaste of bay leaf and onion.
Serving Ideas:
Serve it chilled as cool afternoon beverage during summer. Use this spicy juice to make homemade bloody mary cocktail.