Fresh Tomato Juice Recipe
Fresh tomato juice is a well acclaimed vegetable juice which not just tastes best but easy to make as well because it does not require any cooking. This universal juice can be drunk alone or with ice or used as an ingredient to make cocktails.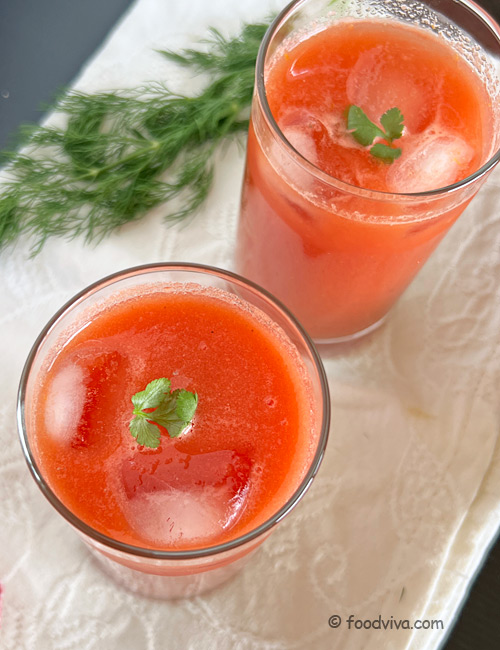 More Juice Recipes
Preparation Time:
10 minutes
Ingredients:
6 Ripe Tomatoes, cored and chopped
2 Carrots, peeled and chopped
1 Celery stick, chopped
1/4 teaspoon Ground Black Pepper
Salt
2 Ice Cubes
Directions:
Place an empty container beneath the nozzle of juice extractor and process tomatoes, carrots and celery.
When juicing process is complete, add salt and black pepper in extracted juice and mix well.
Add ice cubes in chilled serving glasses and pour juice over it.
Serve it for immediate consumption.
Tips and Variations:
Add 1/2 teaspoon Tabasco sauce or 1 cayenne pepper to make it spicier.
Taste:
Tangy and mild sweet taste of tomato, carrot and celery with spicy aroma of ground black pepper
Serving Ideas:
Serve it alone or with snacks as healthy summer drink. Give it to kids during summer or use it to make a cocktail like Bloody Mary.