Celery can provide dietary fiber bulk required for low calorie weight loss diets. Add refreshingly tasty and rejuvenating celery juice to your daily diet to get full benefits of its fibers and minerals. Since potassium and vitamins rich celery is taste neutral and does not have any palatable appeal, this juice recipe uses apple that gives sweeter touch to increase its palatability.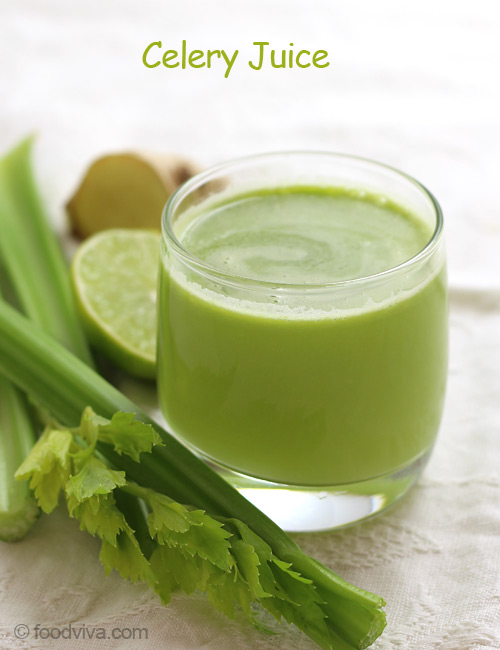 More Juice Recipes
Preparation Time:
10 minutes
Ingredients:
2 Celery Sticks
1 Apple or Pear
1/4 inch Ginger, optional
1/4 Lime or Lemon
Directions:
Wash celery sticks and apple in running water to remove any dirt and impurities.

Cut celery into long pieces. Peel, core and cut apple into slices.

Process all ingredients alternatively (except lemon) through juicer.

Collect the juice in its container.

Discard the pulp.

Squeeze the lemon over collected juice and stir well. Transfer accumulated juice of celery and apple to serving glass and serve.
Tips and Variations:
Add coriander leaves or spinach for variation in taste.
Choose celery sticks which are straight and rigid for best results.
Taste:
Tart taste of celery with sweet and juicy touch of apple.
Serving Ideas:
This is an ideal healthy drink for breakfast. It is a great fiber rich low calorie juice for weight loss diets.