Green vegetable juice may not be a choice of juice for everyone but its health benefits far outweighs its taste. In this recipe, extremely nutritious greens like cucumber, celery, kale and spinach are combined with goodness of apples to give it a desirable sweeter taste and make well balanced tasty detox juice. Learn how to make healthy as well as tasty juice of green vegetables with this recipe.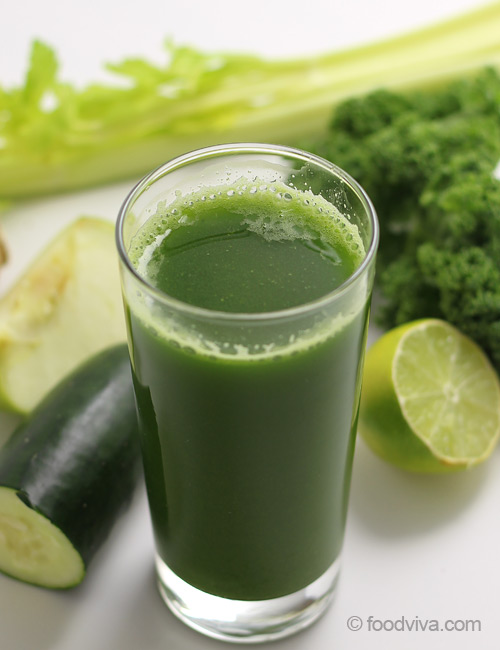 More Juice Recipes
Preparation Time:
10 minutes
Ingredients:
1/2 Cucumber
2 Celery stalks
2 large Kale Leaves or 1 cup Spinach
1 small or 1/2 large Apple
Juice from 1/2 Lemon
1/4 inch piece of Ginger, optional
1 cup Water
Directions for making juice in a blender (without juicer):
Rinse cucumber, celery, kale leaves and apple in running water. Remove stems from kale leaves and tear them into small pieces.

Cut cucumber, celery and apple into pieces.

Pour 1 cup water in a blender jar. Add cucumber, celery, apple and ginger.

Blend until smooth puree. Add kale leaves and lemon juice.

Blend again until smooth.

Place a fine mesh strainer over a large bowl and pour prepared puree over it to strain it. You can also use a nut-milk bag or a cheesecloth to strain the puree.

Use a rubber spatula to press the pulp down and get the maximum juice. Discard the pulp.

Healthy green veggie juice is ready. Consume it immediately to get maximum nutrients.
Directions for making juice in a juicer:
Process all veggies and fruits (except lemon) through juicer and and collect the juice in a container.
Mix the lemon juice with prepared juice and pour into serving glasses.
Taste:
A great taste of fresh vegetables with mild sweet accent of apple.
Serving Ideas:
This is an anytime you like it juice. It is a healthy choice of drink for breakfast and low calorie weight loss diets.