Pineapple Juice, a best nutrient rich juice among all fruit juices, provides lots of health benefits because of its high quantity of minerals, fibers, enzymes, vitamin C and energy. The process used in this juicing recipe helps retain all dietary fibers and nutrients which otherwise are not available in its canned counterpart. Apart from its health benefits, this recipe also uses a black pepper and salt that adds nice salty-spicy zing to its sweet taste.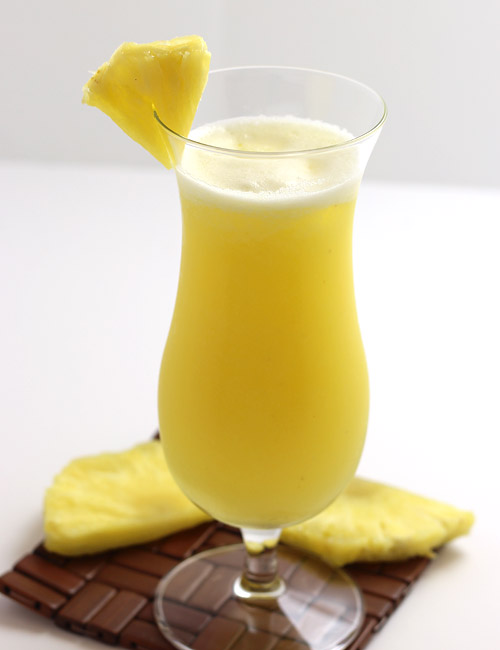 More Pineapple Recipes
Preparation Time:
5 minutes
Ingredients:
1/2 Ripe Pineapple (regular size) (or 1½ cups chopped Fresh Pineapple)
A pinch of Ground Black Pepper (optional)
1-2 teaspoon Sugar or to taste (optional)
Pinch of Salt (optional)
1/2 cup Water
5-6 Ice cubes
Directions:
Wash pineapple and remove its outer skin using a long knife. Cut it into two halves. Take one half and chop into pieces. Keep another half for other purpose. If you feel that peeling it messy and difficult, then you can use store bought pineapple (we recommend sliced fresh pineapple). If you are using pineapple slices, then chop them and take around 1½ cups chopped pieces.

Pour 1/2 water in a blender jar or a mixer grinder jar. Add chopped pineapple.

Blend until smooth puree and there are no chunks of fruit.

Keep a fine mesh strainer over a large bowl and pour prepared puree over it.

Press it gently with spatula to get the maximum juice out of the pulp. Discard the remaining pulp.

Add ice cubes and stir for a minute. Taste the juice and if you like, add sugar, a pinch of salt and a pinch of black pepper powder. Stir for a minute and pour it into two serving glasses and serve.
Tips and Variations:
If you want to make chilled juice of pineapple, then chill the chopped pineapple in refrigerator before using.
Picking right pineapple is key this recipe's success. Choose one that has golden yellow to brown skin. Do not choose green or dark brown skinned pineapple. If it is ripe, it will have a strong sweet smell.
Adjust the quantity of sugar according to your taste and ripeness of pineapple. If you are making it for kids, then you may altogether avoid the sugar.
You can also make the juice in a juicer.
Taste:
Sweet and tangy with mild zing of black pepper
Serving Ideas:
Serve this fresh juice as healthy breakfast drink. Take it with you on your hiking and trekking trips as energy drink. Since nutritional value of this juice is very high, it can be given to kids at anytime. However, avoid adding sugar if you are making it for kids.