Summer's best sweet and juicy strawberries, sweet pineapple and yogurt makes irresistible real fruit concoction that is not just healthy but treat to taste buds as well. Discover how can you make refreshing and rejuvenating strawberry pineapple smoothie in just few steps with this recipe.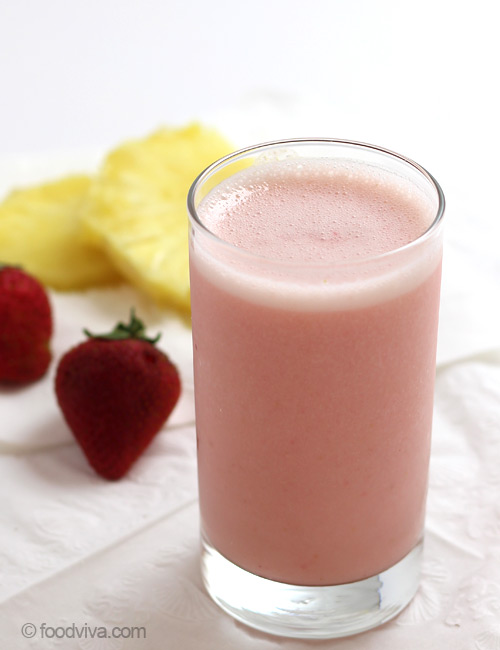 More Smoothie Recipes
Preparation Time:
5 minutes
Ingredients:
1/2 cup fresh or frozen Strawberries (or 3-4 strawberries), stem removed and halved
1/2 cup fresh or frozen Pineapple Chunks
1 6 oz. container Vanilla Yogurt
1/4 cup Pineapple Juice or Orange Juice or Water
2 Ice Cubes
Note:
If you are adding water instead of orange juice (or pineapple juice), add 1 teaspoon sugar (or honey) along with water.
Directions:
We have used frozen strawberries, fresh pineapple and "Yoplait" light vanilla yogurt in this recipe. You can use fresh or frozen fruits according to the availability.

Pour orange juice in a blender jar. Add halved strawberries, pineapple chunks and vanilla yogurt.

Add ice cubes.

Blend until mixture becomes smooth and creamy.

As you can see, the smoothie has beautiful light pink color because of strawberries. Pour it into a chilled serving glass and serve.
Taste:
Pineapple adds sweet taste while strawberry compliments it with its tangy touch. This smoothie not only tastes well but also looks inviting as well due to its light pink color.
Serving Ideas:
Start your day on a perfect note by having healthy pineapple strawberry smoothie as breakfast drink. It also gives mood refreshing and enhancing effect, enjoy it to enlighten your mood any time of the day.