Ripe mango and pineapple combined in a lip smacking fresh fruit smoothie is a marriage made in heaven that is blessed with lots of health benefits and sweet smooth taste. Mango pineapple smoothie prepared with this recipe is a lip smacking tropical delight to your taste buds as it also uses yogurt, milk and honey which gives thicker creamier slushy texture.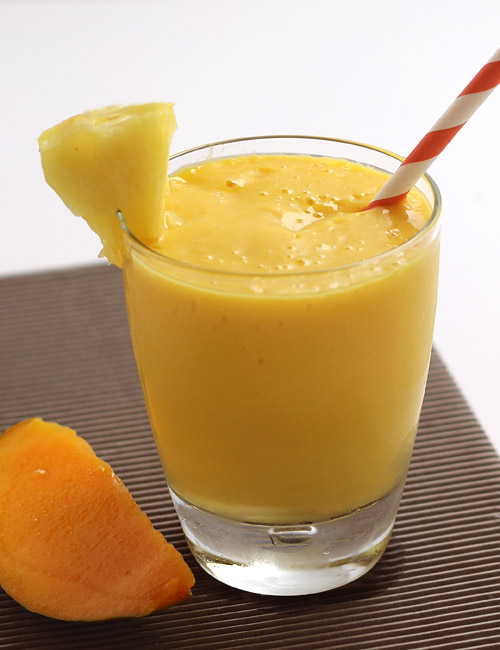 More Smoothie Recipes
Preparation Time:
10 minutes
Ingredients:
1 cup Mango Chunks (fresh or frozen)
3/4 cup Pineapple Chunks (fresh or frozen)
1/3 cup Yogurt (Vanilla or Plain)
1/3 cup Almond Milk or Soy Milk
2 Ice Cubes or 1/4 cup Crushed Ice, optional
1/2 tablespoon Sugar or Honey
Directions:
You can use either fresh fruits or frozen fruits according to the availability. In this recipe, we have used the almond milk, however you can use any milk or same amount of mango juice instead of it.

Pour almond milk in a blender jar. Add plain yogurt.

Add mango chunks, pineapple chunks and honey.

Add ice cubes or crushed ice. if you are using frozen fruits, skip adding ice cubes.

Blend until fruits are well mixed and smooth. Check the consistency of smoothie. If required, add more milk to reduce thickness or add more fruits to thicken it. Creamy pineapple mango smoothie is ready. Pour it into two chilled serving glasses, garnish with a piece of pineapple or mango slice and serve.
Tips and Variations:
If you are using frozen fruits, smoothie will turn thick. To avoid that, increase the quantity of milk to 1/2 cup and skip ice cubes.
Don't keep smoothie for hours as it will taste mild bitter because of the pineapple.
Taste:
Sweet and mild sour taste of mango and pineapple blended with vanilla yogurt.
Serving Ideas:
It is most enjoyable chilled refreshing drink during hot summer week ends and parties.