It is a nutrients and energy rich, refreshing drink made with fresh pineapple, banana, fresh orange juice and plain yogurt. Learn how to make best pineapple smoothie having perfect tropical taste and flavor with this easy recipe.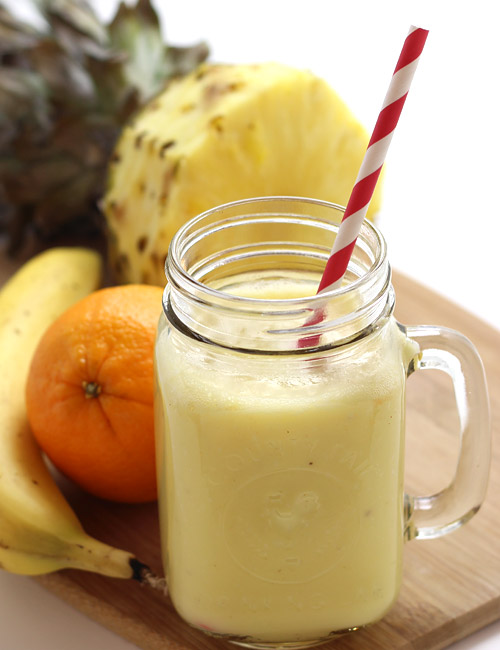 More Smoothie Recipes
Preparation Time:
10 minutes
Ingredients:
1 cup chopped fresh or canned Pineapple
1 fresh or frozen Banana
1/3 cup Plain Yogurt
1/3 cup fresh Orange Juice
Directions:
if you are using fresh pineapple, cut it into small pieces. If you are using canned pineapple, add pineapple pieces without liquid. Squeeze out 1 orange to get the fresh orange juice. Cut banana into large pieces.

Pour freshly squeezed orange juice in a blender jar.

Add pineapple pieces and banana pieces.

Add plain yogurt.

Blend until smooth. Check consistency of the smoothie, add additional juice to reduce the thickness or add more fruit to thicken it and blend again to get your desired consistency. Pour it into serving glasses, garnish with pineapple wedge and serve.
Tips and Variations:
For a change, add equal amount of apple juice or pineapple juice juice as a substitute of orange juice.
Serving Ideas:
Serve it as a nutrients and energy rich breakfast drink for a perfect start of the day. This smoothie gives an extraordinary filling and cooling effect to body, making it an ideal summer drink to have in hot afternoons or evenings.