No canned juice can ever beat the taste of freshly made Homemade orange juice with carrot. Unlike canned or ready made juices, this recipe retains all nutritional values of orange and it is not processed with harmful preservatives, which makes it a recommended fresh fruit juice for infants and growing kids. Apart from oranges, this recipe also uses carrot that not only adds nice zing to its taste but also brings their own healthy dose of nutrients.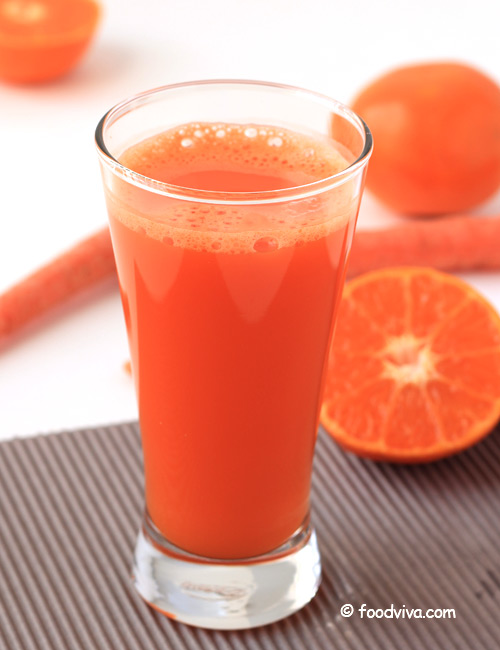 Preparation Time:
10 minutes
Ingredients:
2 Fresh Oranges
2 medium Carrots
1/4 Lime, optional
1/4 cup Water
2-3 Ice Cubes, optional
Directions:
Wash the oranges and carrots and pat dry them.

Remove peel and separate each section of oranges and remove seeds from them. Peel and cut carrots into chunks. Remove outer skin from the lime.

Pour 1/4 cup water in the jar or a blender or a mixer grinder. Add orange sections, carrot chunks and lime.

Blend until smooth puree. You can also use fruit juicer instead of blender to extract the juice.

Line a double layered cheesecloth or a fine mesh strainer over a medium size bowl and pour puree over it.

Gather all the corners of the cheesecloth, twist it and squeeze to get as much as juice as you can. Add ice cubes in a chilled serving glasses and pour homemade orange carrot juice over it.
Tips & Variations:
You can also make this using a juicer.
Add ginger and apple for variation.
Taste:
Natural sweet and zesty taste of orange and carrot
Serving Ideas:
It is a perfect juice to have in breakfast. However, it can be enjoyed at any time during day and can be served to kids too.