It is beneficial for many medical conditions. Juice of pomegranate is rich in antioxidants, vitamin C, vitamin B5 and potassium and it's scientifically proven to be effective in reducing LDL (bad cholesterol) and raising HDL (good cholesterol). Fresh pomegranate fruit juice is not only healthy but very easy to prepare at home within few minutes using a blender (without a juicer).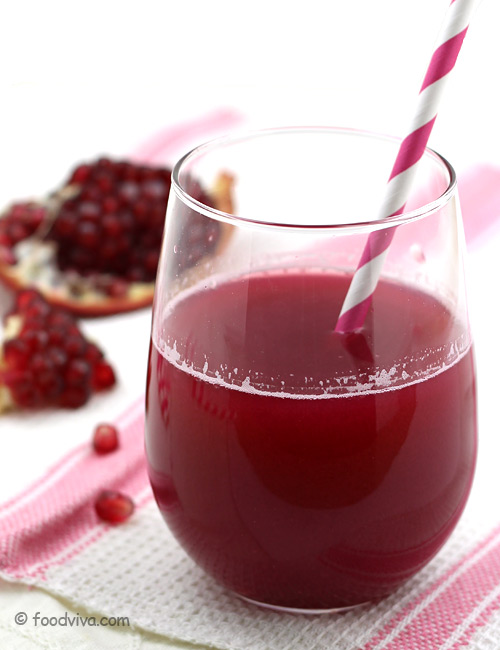 More Juice Recipes
Preparation Time:
10 minutes
Ingredients:
1 cup fresh Pomegranate seeds
1/2 cup Water
Directions:
Wash the pomegranate and pat dry. Cut it from the top to remove the crown (flower shaped portion on top). Make shallow cuts through the outer skin from the top to the bottom on two sides. Tear apart the fruit into halves and remove the seeds from it.

Take 1 cup pomegranate seeds in the blender jar.

Pour 1/2 cup water.

Pulse it for few times in a blender until the outer layer of seeds broke and release the juice.

Don't blend it, just pulse it because if the seeds break completely, the juice turns bitter.

Take a large bowl and place the metal strainer over it to sieve the juice. Pour prepared juice over it. If metal strainer is not available, you can use the nut milk bag or a clean muslin cloth to strain the juice.

Press pulp using the backside of a spoon to extract as much juice as possible.

Discard the remaining pulp and seeds (or mix some salt with it and enjoy it alone).

Pour the prepared juice into a serving glass and serve immediately to get more vitamins, antioxidants and other nutritional elements.
Tips and Variations:
Do not discard the remains of pomegranate pulp and seeds, they are rich in dietary fibers. Mix some salt and sugar and enjoy it alone.
Add a cup of spinach and half apple for variation.
Taste:
Natural sweet and tart taste
Serving Ideas:
It is a perfect breakfast or after-workout drink as it packs lots of vital nutrients and prepares your body for a hectic day ahead. Serve it in limited amount to infants and growing kids.