Pomegranate Smoothie Recipe
Pomegranate juice is good for health. However, its tart taste turns off many, keeping them devoid of its goodness. Refreshing pomegranate smoothie tastes much better than pomegranate juice as its tartness is subdued by banana, yogurt and fresh berries. Actually, this frozen fruit smoothie tastes so good that it can be served as a dessert as well.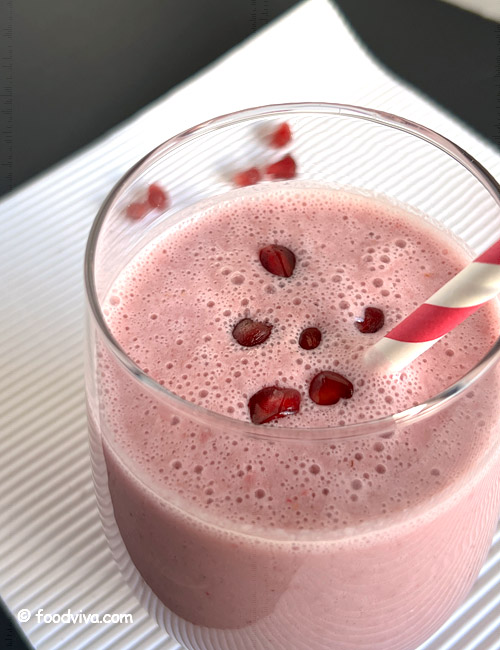 More Smoothie Recipes
Preparation Time:
5 minutes
Ingredients:
1 cup Pomegranate Juice
1/2 Frozen Banana, peeled and sliced
1/2 cup Frozen Mixed Berries
1/2 cup Yogurt (vanilla or plain)
Directions:
This recipe uses all frozen fruits. However, you can also use their fresh counterparts if available. If you are making this smoothie with fresh fruits, then add 1/2 cup ice cubes while blending.
Place mixed berries, banana, pomegranate juice and yogurt in a blender or food processor. Blend until smooth puree.
Pour it in the serving glass and serve with snacks or as a dessert.
Taste:
Perfectly balanced sweet and tart taste with smooth texture.
Serving Ideas:
It is a perfect party dessert. Your kids would love to drink it at any time.