Soothing light green hued spinach smoothie is the best way to develop the taste for raw leafy greens if you are starting weight loss or detox diet. This recipe uses strawberry and mango, which mask spinach's tart taste making it more palatable and still retaining the goodness and nutrition of leafy vegetable.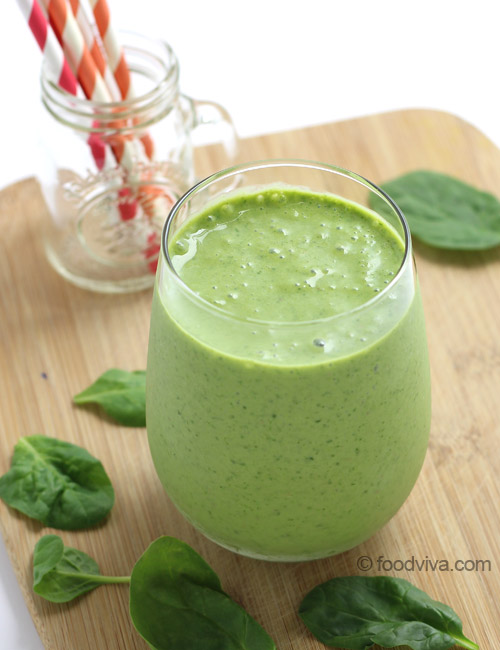 More Smoothie Recipes
Preparation Time:
10 minutes
Ingredients:
2 cups Baby Spinach
4 fresh or frozen Strawberries
1/2 cup fresh or frozen Mango Chunks or 1 Banana
1/2 cup Almond Milk or Soy Milk or Normal Milk
1/2 cup Plain Yogurt
Directions:
Clean the spinach. Cut the strawberries into halves.

Add almond milk and plain yogurt in a blender jar.

Add strawberries and mango chunks. If you are not using frozen strawberries or frozen mango chunks, add 2 ice cubes.

Add cleaned spinach.

Blend until smooth. Check the consistency, if required, add milk to reduce thickness. Pour it into chilled serving glasses and serve.
Tips and Variations:
Take organic vegetables and fruits to make organic smoothie.
If you are a beginner and trying it for the first time, then use only 2 cups spinach as suggested in this recipe. However, if you have developed a palate for it, then add 3 cups.
Taste:
Sweet fresh fruits and tart spinach gives distinctive sweet and mild tart experience with soothing light green color.
Serving Ideas:
Strawberry mango spinach smoothie can be served in the breakfast or any time you like it. Smoothie prepared with less spinach and more fruits is the best way to give greens to your kids too.