Among all other fruit smoothies, strawberry smoothie is one of the most sought after summer smoothies due to its irresistible taste and health benefits. This recipe prepares refreshing, healthy and creamy drink with fresh strawberries, yogurt, milk and sugar.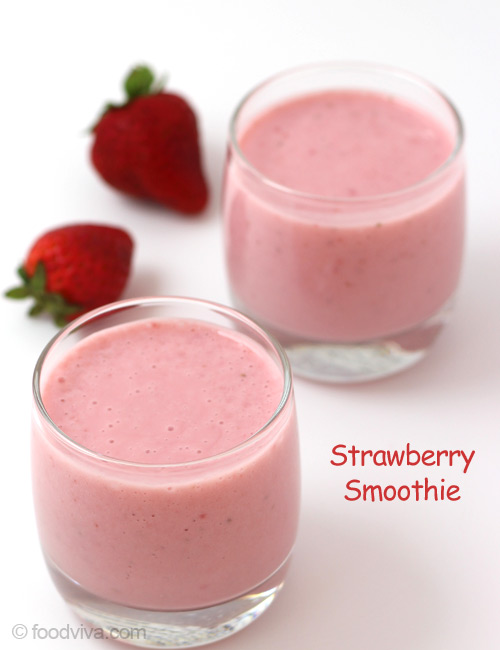 More Smoothie Recipes
Preparation Time:
10 minutes
Ingredients:
1 cup fresh or frozen Ripe Strawberries (approx. 8-10 strawberries)
1/2 cup Vanilla or Strawberry Yogurt
1/2 cup Milk
1 teaspoon Sugar (or to taste)
2 whole Strawberries with Leaves (for garnishing), optional
Directions:
Wash fresh strawberries, remove stems and put them in a blender jar.

Add vanilla yogurt, milk and sugar.

Blend until smooth puree. Slit two strawberries halfway through the center. Slide each one of them on rim of two glasses. Pour prepared smoothie in garnished glasses and serve.
Tips and Variations:
Add 1/2 cup crushed ice or 2-ice cubes for slushy smoothie.
Use honey instead of sugar as a healthy option.
Taste:
Sweet strawberry taste
Serving Ideas:
It is the best way to enjoy fresh strawberries during its season. Serve strawberry smoothie as breakfast drink or as a welcome drink in all kinds of parties and to kids as well.