Strawberry Kiwi Smoothie Recipe
Strawberry Kiwi Smoothie is a sweet and sour nutritious fruit drink prepared by blending exotic fruits like kiwi and strawberry with yogurt and orange juice. Strawberry and kiwi are rich source of vitamin C and combining them with orange juice makes this smoothie even healthier. Follow this easy recipe to make healthy and fructilicious kiwi strawberry smoothie in less than 5 minutes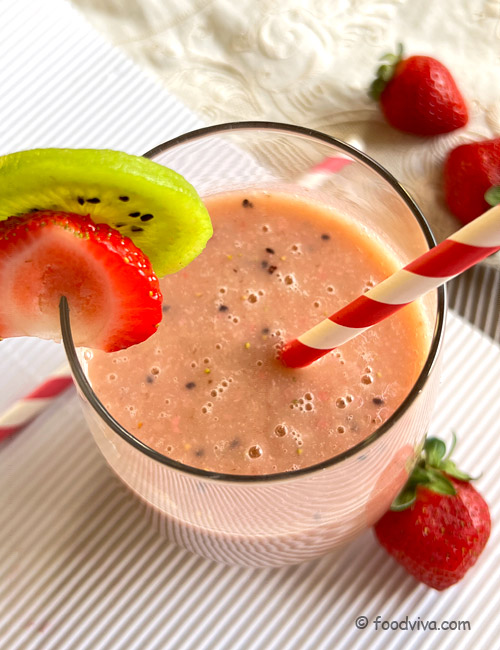 Preparation Time:
5 minutes
Ingredients:
2 Kiwis, peeled and chopped
8 Fresh Ripe Strawberries, cleaned and chopped
1½ cups Yogurt
1/2 cup Orange Juice
1 cup Crushed Ice
3 teaspoons Honey
2 Strawberry Slices (for garnishing)
Directions:
Place chopped kiwi, chopped strawberries, yogurt and honey in a blender jar. Blend until smooth. Add ice cubes and orange juice; blend again for 1 minute on high speed.
Yummy smoothie is ready. Take two serving glasses and pour it in serving glasses
Garnish with strawberry slices and serve.
Tips and Variations:
When fresh strawberries are not available, use frozen ones.
Adjust the quantity of honey according to your taste and tartness of strawberry.
Taste:
Sweet and mild sour
Serving Ideas:
Chilled strawberry and kiwi smoothie with orange juice is a perfect afternoon drink.