Want to have something different but healthy to drink? Then look no further!! Strawberry Juice is a refreshing fresh fruit juice that is full of vitamin C and antioxidants and lot of invigorating flavor. Apart from fresh and ripe strawberries, this recipe also uses lime juice to make it tantalizing.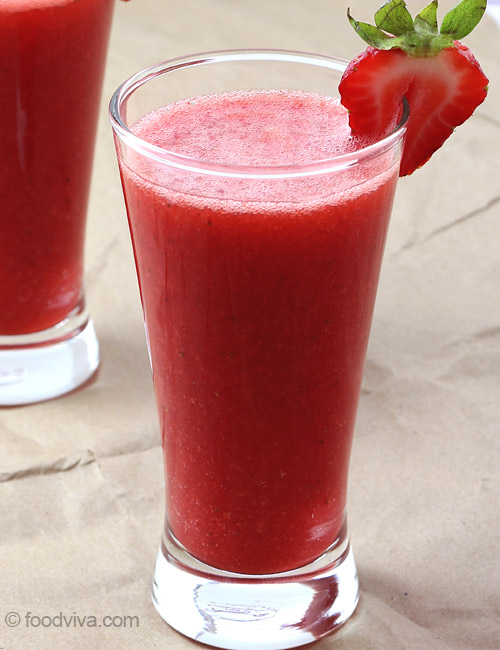 Preparation Time:
5 minutes
Ingredients:
2 cups Ripe Strawberries
Juice from 1/4 Lime or Lemon, optional
1 tablespoon Sugar, optional
1 cup Cold Water
2 Ice Cubes
1 halved Strawberry, for garnishing
Directions:
Wash strawberries, remove stem and cut into small pieces.

Add strawberries, sugar and juice from lime (you can change the quantity of sugar and lime according to how ripe the strawberries are) in a blender.

Blend until smooth puree. Add water and blend again for a minute.

Place a fine mesh strainer over a large container and pour prepared juice over it to remove the foam results during blending. You can also use a cheesecloth to remove the foam. This step is optional.

Add one ice cubes in each of the glasses and pour sweet and sour fresh strawberry fruit juice over it. Place halved strawberry on rim of each glass to give it a tempting look and serve.
Tips and Variations:
Adjust the quantity of sugar according to your taste and sweetness of the strawberries.
Add 1 cup chopped watermelon for variation.
Use organically grown strawberries to make organic strawberry juice.
Serving Ideas:
Apart from refreshing flavor, there are many health benefits of this juice which makes it a preferred drink to be served in the afternoon during hot summer. It is perfect beverage to drink at anytime and especially during breakfast or evening garden party.