Making strawberry yogurt is easy, just beat the mixture of freshly cooked strawberry and sugar or homemade strawberry jam (or freezer jam) with plain yogurt and voila! Best flavored yogurt is ready. This recipe is one of the many ways to enjoy the fresh strawberries during its annual season and it involves only little cooking and also preserves all vitamins and carbohydrates of it.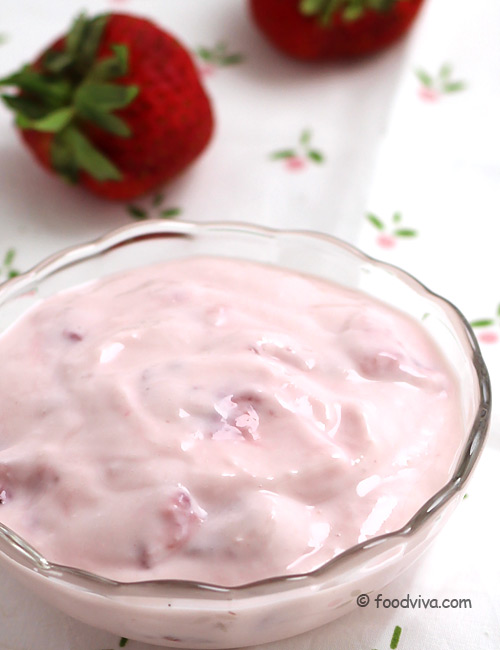 More Dessert Recipes
Preparation Time:
70 minutes
Ingredients:
1/2 cup Ripe Strawberries
2 tablespoons Sugar
1½ cups Plain Yogurt or Curd (or 1 cup Plain Greek Yogurt or 1 cup Hung Curd)
Note:
You can make the strawberry yogurt at home by following any method given below.
Use readymade Strawberry Jam (skip steps 1 to 4)

Use Fresh Strawberry – Cook fresh strawberries with sugar by following the below given steps.
Directions:
If you are using homemade or readymade jam, skip the steps 1-4 given below. If you don't have strawberry jam, follow the given steps to make it at home.

Wash and drain strawberries. Finely chop into small pieces. Add finely chopped strawberries and sugar in a small non-reactive pan and heat it over low flame.

The sugar will start to melt within few minutes. When the sugar dissolves completely, increase the flame to medium. Stir in between occasionally.

Cook until mixture turns thick, it will take approx. 8-10 minutes. Stir in between occasionally to prevent sticking.

Turn off the flame and transfer the mixture to a small bowl. Let it cool at room temperature and then place it in refrigerator for at least an hour to chill it. The strawberry jam mixture is ready.

If you are using greek yogurt or hung curd, skip the steps 7 and 8.

If you are using plain normal yogurt (or homemade curd), follow the given method to prepare thick yogurt (hung curd) from it. Place a large metal strainer or a double-layered cheesecloth over a large bowl. Place yogurt over it and keep for at least an hour (or 2-3 hours, if possible) to drain the excess liquid from it. Keep them in refrigerator to prevent the yogurt from turning sour.

After an hour, transfer the yogurt to a large bowl and discard the drained liquid.

As you can see in the photo, the yogurt looks thick.

Add cooked strawberry mixture or 2½ tablespoons strawberry jam. If you are using readymade strawberry jam, adjust the amount of it according to the sweetness.

Mix well and transfer it to individual serving bowls (or keep it in the same bowl). Place it in a refrigerator for 1-2 hours. Chilled strawberry yogurt is ready for serving.
Tips and Variations:
To make extra thick yogurt, keep the yogurt in strainer for 4-5 hours (in step-7).
Use no-cook homemade freezer jam to get the natural taste of strawberries.
Take red and ripe strawberries to make this yummy flavored yogurt.
Adjust the amount of sugar according to your taste.
Add 1/4 cup chopped fresh strawberries in step-10 for variation.
Taste:
Sweet and mild tangy taste of strawberry
Serving Ideas:
Serve chilled strawberry yogurt as a dessert or in the breakfast.