Chocolate Rice Pudding Recipe
There is no other better ingredient than chocolate when you want to have a different flavor in your rice pudding. The chocolate flavor achieved by adding coco powder and chocolate chips complements its smooth texture. Learn how to make creamy chocolate rice pudding with this recipe and surprise your friends, family and kids.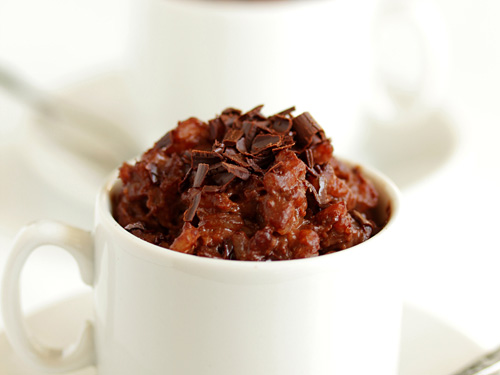 More Pudding Recipes
Preparation Time:
25 minutes
Ingredients:
1/2 cup Short Grain Rice
4½ cups Whole Milk
1/3 cup Sugar
1 tablespoon unsalted Butter
1/2 teaspoon Vanilla Extract
1½ teaspoons unsweetened Cocoa Powder
1/4 cup Semisweet Chocolate Chips
Chocolate Shavings (for garnishing)
Directions:
Wash rice and soak it in water for 20 minutes. Soaked rice will take less time to cook and turn soft.
Drain it and place in a heavy bottomed saucepan. Add milk and sugar, stir well and bring it to boil over medium heat.
When it starts to boil, reduce heat to low and cook for around 35 minutes until rice is tender and mixture starts to thicken. Stir in between occasionally. Please note that time mentioned here may vary based on the quality and type of rice you are using.
Add vanilla extract, butter, cocoa powder and chocolate chips and stir constantly for around 2 minutes until chocolate melts completely and mixes well.
Remove pan from heat and let mixture cool at room temperature, stir occasionally in between.
Transfer it to individual serving bowls, cover with plastic wrap and place in refrigerator for 2-3 hours.
Garnish chocolate rice pudding with chocolate shavings or whipped cream and serve.
Tips and Variations:
You can use 2 cups cooked rice (or leftover rice) in place of uncooked ones. If you are using cooked rice, then start the procedure from step-2 and follow all remaining steps but cook only for 15-20 minutes in step-3.
Add raisins and choice of roasted nuts like almonds, pecans or cashew nuts in step-5 for rich and chewy variation.
Omit cocoa powder and use white chocolate chips instead of normal one in this recipe for variation.
Cook until mixture is creamy but not too thick in step 3 because mixture will start gaining more thickness as it cools gradually.
Taste:
Sweet and creamy chocolaty taste.
Serving Ideas:
Serve it as a party dessert. Kid will enjoy yummy bowl of this chocolate dessert for afternoon snacks.