Lemon Pudding Cake Recipe
Lemon pudding cake with intense lemon flavor, gooey lemony sauce at bottom and perfect sponge cake on top is a treat to taste buds at any time. This low fat lemon flavored cake dessert is so easy to prepare that even amateurs cannot go wrong with it. Follow this recipe to prepare fluffy, thick and light cake dessert for perfect Christmas celebration.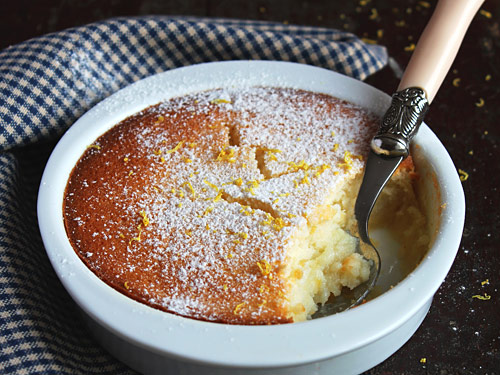 More Pudding Recipes
Preparation Time:
10 minutes
Ingredients:
1/3 cup All Purpose Flour
2/3 cup White Sugar
1 teaspoon grated Lemon Zest
4 tablespoons Lemon Juice
1 tablespoon Butter, melted
3 Eggs, separated
1/8 teaspoon Salt
1 cup Milk
Powdered Sugar, for garnishing
Directions:
Preheat oven to 350 degrees F.
Beat egg yolks in a medium bowl until thick. Stir in lemon juice, lemon zest, butter and milk. Add flour, salt and sugar and beat until smooth.
In a big bowl, beat egg whites until stiff but not dry. Fold it in prepared batter.
Pour prepared batter into a buttered 1-quart oven safe casserole or other shallow baking dish.
Place one larger pan in oven and set casserole in middle of the pan. Pour hot water around casserole to about 1 inch deep in a pan.
Bake at 350 degree F until puffed and light golden for around 35-40 minutes.
Spinkle powdered sugar over it as a garnish. (optional)
Lemon pudding cake is ready to serve hot. You can also serve it chilled.
Tips and Variations:
Whip egg whites properly until fluffy with stiff peaks in a grease free bowl to get a best result.
Make sure that you use hot water baking technique mentioned above for best baking. For safe cooking and prevent chances of getting burned with hot water, always set casserole or baking dish in larger pan and put it in oven before adding water.
If you like more lemon flavor, then increase quantity of lemon juice to 1/2 cup and use more lemon zest.
To get ooey-gooey lemony sauce at bottom of the pudding cake, use right sized casserole or baking pan. Also make sure that there is sufficient water in pan all through baking. If water evaporates quickly, add some more water around casserole.
Taste:
This half cake, half pudding dessert has mild tart and mild sweet with melt in the mouth fluffy texture and invigorating lemon flavor.
Serving Ideas:
Serve lemon pudding cake as a dessert after dinner. This versatile dessert can be served hot or chilled with chocolate sauce or any other fruit sauce of your choice. When served with scoop of vanilla ice cream, the combination makes it even more irresistible.