Cakes are generally made with Egg to give it a soft and moist texture. However, for strict vegetarians, vegans and allergic person, this is a problem and can not enjoy the cake. This Eggless Chocolate Cake Recipe makes soft and spongy cake without using eggs, butter and condensed milk and provides directions with step by step photos. Additionally, this recipe also uses brewed coffee to give it a deep choco-coffee flavor and explains how to make chocolate ganache and use it as a cake frosting to make it even more tempting.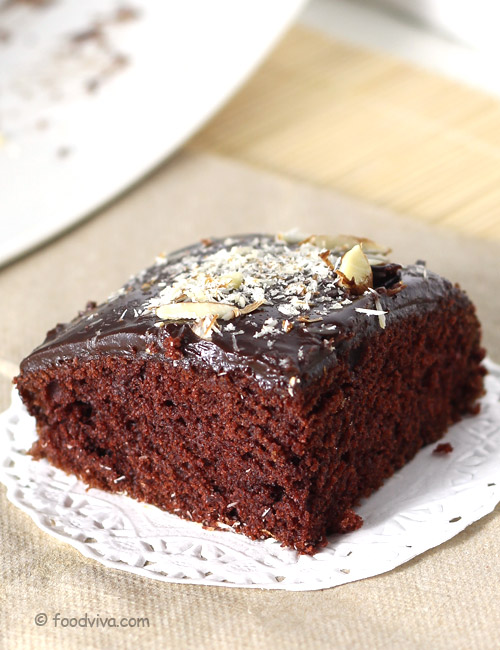 More Dessert Recipes
Preparation Time:
 15 minutes
Ingredients for Cake:
3/4 cup Maida/All Purpose Flour
1/2 cup granulated Sugar (or 1/3 cup)
2 tablespoons Cocoa Powder (unsweetened)
1/2 teaspoon Baking Soda
A pinch of Salt
1/2 cup Brewed Coffee (mix 1/2 cup warm water with 3/4 teaspoon Instant Coffee Powder or Espresso Powder)
3 tablespoons Sunflower Oil or Light Olive Oil
1½ teaspoons Lemon Juice or Vinegar
1/4 teaspoon Vanilla Extract or 3-4 drops of Vanilla Essence
Ingredients for Frosting
2 oz (55 gram) Chocolate Chips (or chocolate)
1 tablespoon Butter
2½ tablespoons Full Fat Milk
2 tablespoons sliced Almonds, optional (for garnishing)
Note:
To make chocolate cake for 8 servings, double the quantity of all ingredients, use 8-inch square pan or 9-inch round pans and bake the cake for 35-40 minutes instead of 30 minutes.
Directions:
Preheat oven to 350 F (180 C). Make brewed coffee; mix 3/4 teaspoon instant coffee powder with 1/2 cup warm water. Add brewed coffee, oil, lemon juice (or vinegar) and vanilla extract in a bowl and mix well.

Sift all purpose flour (maida), cocoa powder, baking soda and salt in another bowl. Add sugar. If sugar has large granules, grind it in a grinder until powder.

Mix well.

Pour wet ingredients mixture into flour mixture.

Mix using a wire whisk or a spatula. Don't over mix.

Mixture should be thin and lumpy. It should not be very thick.

Grease inside surface of baking pan (6.5 inches square pan) with oil or butter. Pour batter in it.

Place baking pan in pre-heated oven and bake for 30 minutes. Remove pan from the oven. Check whether the cake is cooked or not by inserting a bamboo skewer (toothpick) in the center and pulling it back. If it comes out clean, cake is cooked. If it does not, then cook it for 5 more minutes.

Let chocolate cake cool-down to room temperature. Run the knife on sides of the cake. Place cooling rack or a plate over the pan.

Flip the pan and rack together to easily remove the cake. If cake doesn't come out easily, tap the pan gently.

Now, it's the time for frosting. Take chocolate chips or (chopped chocolate) in a bowl.

Heat butter and milk in a pan over medium flame.

Bring it to boil and cook for a minute.

Turn off the flame. Pour the mixture over chocolate and let it stand for 2 minutes. Since the mixture is hot, chocolate will melt.

Mix it using a wire whisk until it turns smooth and shiny. Mixture will look dull in the beginning but it will turn shiny as shown in the photo after thorough mixing. Ganache frosting is now ready.

Spread aluminum foil and place cooling rack over it and then place cake over it. Foil will catch the excess ganache drips while frosting in next step. If you do not have a foil, use a plate to prevent the mess.

Pour ganache over the cake and spread it evenly with a knife or a flat spatula.

Sprinkle some sliced almonds over it if desired. Let it rest for 1-2 hours. Eggless Chocolate cake is ready. Slice it and serve.
Tips and Variations:
Make sure that cooking oil being used doesn't have strong smell. We recommend to use Sunflower or light olive oil.
To make chocolate cake for 8 servings, double the quantity of ingredients, use 8-inch square pan or 9-inch round pans and bake the cake for 35-40 minutes instead of 30 minutes.
Garnish the cake with powdered sugar if you don't want to make Chocolate ganache frosting.
Don't reduce the quantity of lemon juice.
Do not replace baking soda with baking powder.
Taste:
 Sweet and chocolaty with soft and moist texture.
Serving Ideas:
 Serve it as a dessert after dinner or make it for the kid's birthday party. Enjoy it with vanilla ice-cream or on its own.