Chocolate Milkshake, a name itself makes juices flowing in the mouth. No milkshake can ever come close to the divine taste of rich and creamy milkshake prepared with this recipe as flavor of its three simple ingredients; milk, chocolate syrup and ice cream is enhanced by whipped cream.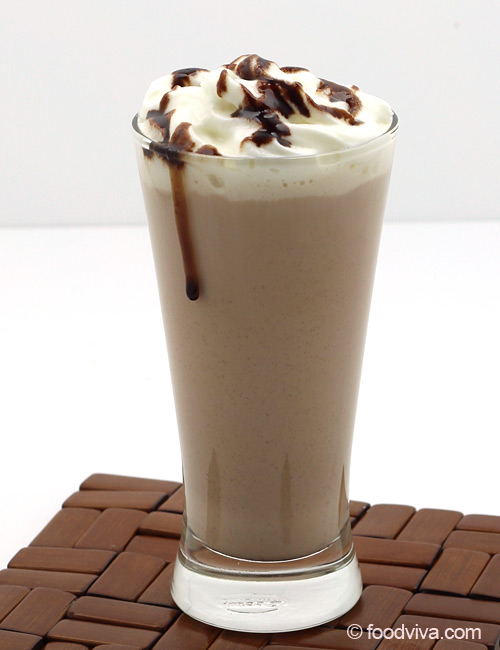 More Milkshake Recipes
Preparation Time:
7 minutes
Ingredients:
1½ -2 tablespoons Chocolate Syrup
1 cup Chilled Milk
3/4 Cup Vanilla or Chocolate Ice Cream
Whipped Cream, for garnishing (optional)
Directions:
Pour chilled milk into a blender jar. Add vanilla ice cream or chocolate ice cream. If you like more chocolaty flavor, add chocolate ice cream.

Add chocolate syrup.

Blend it until mixture becomes frothy and there are no lumps of ice cream. Pour it into a serving glass and garnish with whipped cream.
Tips and Variations:
Increase the quantity of chocolate syrup to 2-2.5 tablespoons to make more chocolaty milkshake.
You can use homemade chocolate syrup or Hershey's chocolate syrup.
If chocolate syrup is not available, you can make it at home. To make syrup at home, mix 1 tablespoon unsweetened cocoa powder along with 1½ tablespoons sugar, 1½ tablespoons water and a dash of vanilla essence and cook it over low heat until syrup starts to thicken or for 2-3 minutes.
Taste:
Chocolaty sweet and creamy
Serving Ideas:
Enjoy chocolate milkshake with breakfast or evening snacks or as a tempting dessert for the perfect end of your dinner and lunch.