Milkshakes are treat to your taste buds anytime of the day and peach shake is no exception to it. This peach milkshake recipe prepares an ultimate thick shake using fresh and juicy peaches, milk and vanilla ice cream.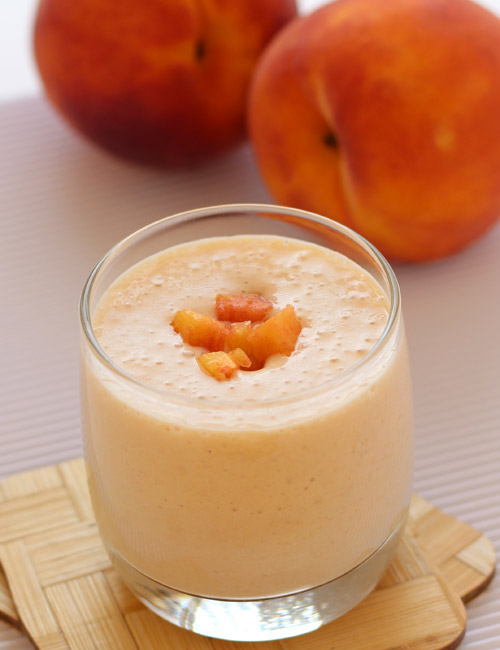 More Milkshake Recipes
Preparation Time:
5 minutes
Ingredients:
2 large fresh Peach, peeled and chopped (approx. 2 cups)
3/4 cup Milk
1½ cups Vanilla Ice Cream
1-2 teaspoons Sugar, optional
Directions:
Wash two peaches in running water and peel them. Cut into pieces, discard the stone.

Add peach pieces into a blender.

Blend until smooth puree.

Add 3/4 cup milk, 1-teaspoon sugar (or to taste) and 1½ cups vanilla ice cream.

Blend it again until smooth and creamy texture. Pour prepared creamy peach milkshake into serving glasses and serve.
Tips and Variations:
Check the consistency of prepared shake before pouring into serving glasses. If you find it to be not having desired thickness, then add more milk to dilute it or add more ice cream or peaches to thicken it.
If fresh peaches are not available, then you can also use frozen peaches.
Taste:
Sweet and smooth creamy taste of fresh and juicy peaches mixed with milk and vanilla ice cream.
Serving Ideas:
This milkshake can be served as an afternoon beverage or as a dessert. Serve it as a welcome drink for parties.