It's a healthy and creamy shake made from only 3 ingredients – ripe avocado, milk and sugar. Avocado, which is also known as Butter Fruit, is rich in Vitamin K, B5, B6, C, E, Potassium, Magnesium, fiber, healthy fat and has high amount of good cholesterol which is good for heart. Avocado flesh has creamy texture and hence, its milkshake doesn't need ice cream to bring creaminess. Use non-dairy milk
(see tips given below)
instead of regular milk to make Vegan Avocado Shake.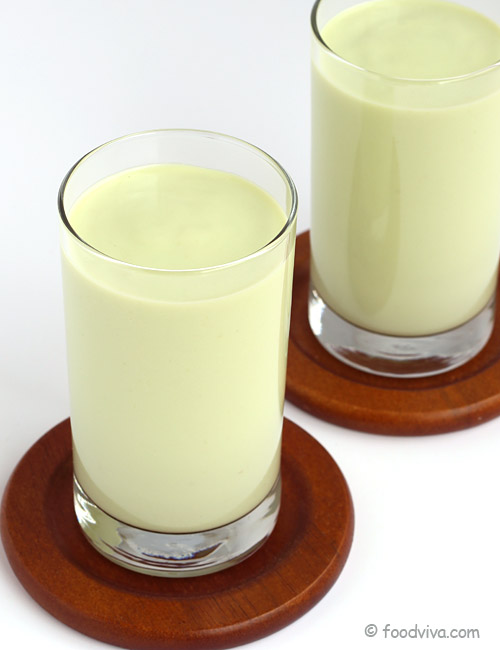 More Milkshake Recipes
Preparation Time:
 5 minutes
Ingredients:
1 large Ripe Avocado
2 cups Milk or Almond Milk
3 tablespoons Sugar or to taste
Directions:
Choose ripe avocado by pressing it gently; if it is hard, it means Avocado is unripe; if it's too soft then it means Avocado is overripe; if it is soft yet little firm, then it means Avocado is ready. Cut it into half and remove the pit.

Scoop the pulp out using a spoon and place it into a blender jar. Add milk and sugar.

Blend until smooth texture. Taste it for sugar at this stage and add more sugar if desired. Grind again for few seconds. Avocado Milkshake is now ready for serving. Pour it into two serving glasses and serve immediately for immediate consumption.
Tips and Variations:
Use almond milk or soy milk or thin coconut milk instead of dairy milk to make the Vegan Avocado Shake .
Consume the milkshake immediately. As time passes, it would start to become dark due to oxidization.
Add few ice-cubes while blending in step-3 for an extra chilled drink.
Taste:
 Sweet and creamy.
Serving Ideas:
 Serve Avocado Milkshake as an afternoon summer drink or healthy breakfast drink.