Banana Milkshake, a healthy and creamy shake prepared with ripe banana and milk is rich in potassium, dietary fiber and energy. In this shake recipe, banana provides the primary base for smoothness but ice cream gives richer creaminess to its texture. Cardamom, even though in small amount, gives it an enticing flavor while nuts provide something to chew on occasionally.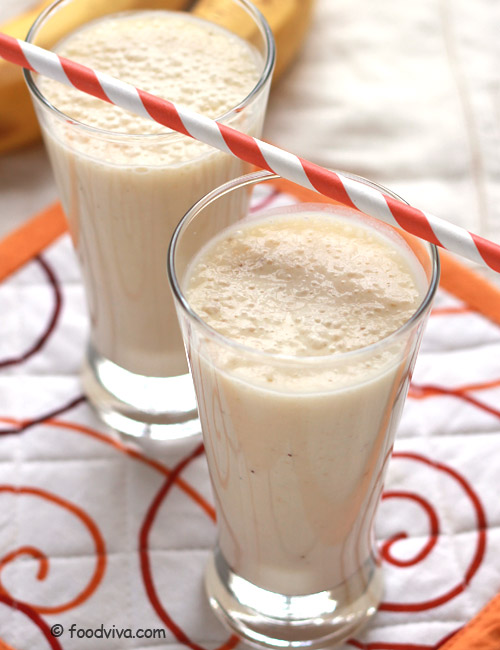 More Milkshake Recipes
Preparation Time:
10 minutes
Ingredients:
1 large Banana
3/4 cup Milk, chilled
1 teaspoon Sugar or to taste
2 scoops Vanilla Ice Cream, optional
A pinch of Cardamom Powder, optional
Directions:
Take a ripe banana. Peel and cut it into slices. In this recipe, vanilla ice-cream is added to make the milkshake creamy and cardamom powder is added for nice flavor.

Add sliced banana in the jar of a blender or the large jar of a mixer grinder jar.

Add a pinch of cardamom powder. This is an optional ingredient. If it is not available, skip it.

Add 1-teaspoon sugar.

Add 2-scoops vanilla ice-cream.

Pour 3/4 cup milk over it.

Blend until mixture turns smooth. If the mixture looks thin, add extra 1/2 banana and blend again. If mixture looks thick, add more milk and blend again to dilute it. Milkshake of banana with ice cream is ready. Pour it into a serving glass and serve immediately.
Tips and Variations:
Adjust the amount of sugar as per your taste.
For healthy variation, don't add sugar and vanilla ice cream.
Add 2-3 strands of saffron in milk 30 minutes before making the shake. This will make saffron colored milkshake having extremely delicious aroma which compliments the flavor of cardamom.
Serving Ideas:
Banana shake prepared with milk and ice cream can be served as healthy breakfast drink or as a chilled stomach filling drink in the afternoon. Enjoy it as dessert or party drink too.