Nothing can be more refreshing and rejuvenating than having a glass of cool tropical Coconut Milkshake in evening while watching sun go down. In this recipe, three basic ingredients, coconut milk, banana and vanilla ice cream are blended together to make delicious tropical fruit drink.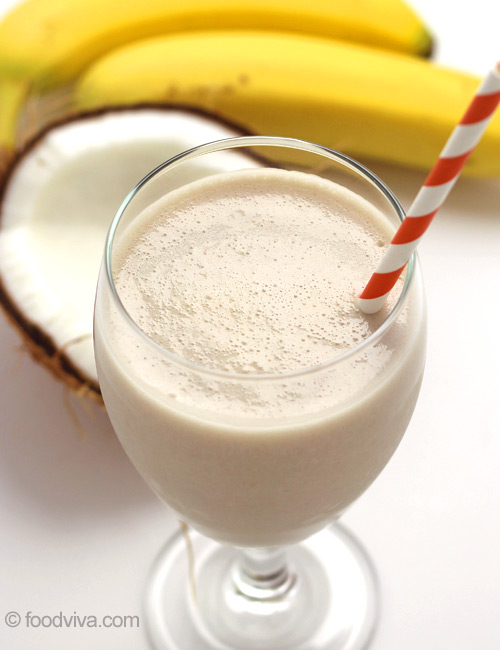 More Milkshake Recipes
Preparation Time:
5 minutes
Ingredients:
1/2 cup Coconut Milk
1/2 cup Vanilla Ice Cream
1 medium Banana
1/2 tablespoon Sugar
2 Ice cubes
Directions:
Peel the banana and cut into small pieces. You can use either canned or homemade or tetra pack coconut milk according to the availability.

Pour coconut milk in a blender jar.

Add banana, vanilla ice cream, ice cubes and sugar.

Blend until all ingredients are well mixed and like puree. Check the consistency of milkshake, if it is not to your liking, add coconut water or milk to reduce thickness or add more banana to thicken it. Coconut Milkshake is ready. Pour it into a chilled serving glass and serve.
Serving Ideas:
This milkshake is a perfect tropical beverage for summer evenings. Enjoy this cool tropical drink while taking evening stroll in a warm weather or as a dessert after romantic dinner.