Blueberry Milkshake prepared with frozen blueberries, vanilla ice cream and almond milk tastes heavenly sweet and creamy and it's an anytime treat for a sweet tooth in you. Lift your summer spirit by having healthy blueberry shake for breakfast or dessert today.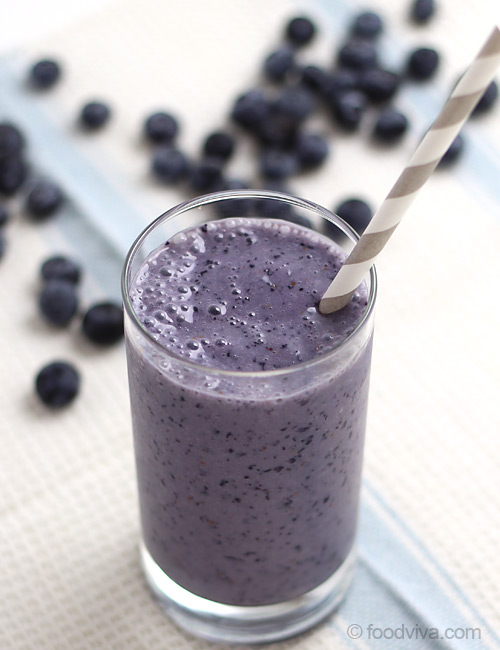 More Milkshake Recipes
Preparation Time:
5 minutes
Ingredients:
1 cup frozen Blueberry
1/2 cup Vanilla Ice Cream
1/2 cup Soy Milk or Almond Milk or any Non-Dairy Milk
Directions:
Use frozen blueberries and any non-dairy milk to make this milkshake. Don't use fresh blueberries or dairy milk to prevent it from curdling.

Pour almond milk in a blender jar.

Add frozen blueberries.

Add vanilla ice cream.

Blend it until smooth and creamy texture. Pour prepared blueberry shake into serving glass. Garnish it with a scoop of ice cream or 2-3 whole blueberries and serve immediately.
Tips and Variations:
Always use frozen blueberries for thick shake.
Do not use normal milk. Use soy milk or almond milk to prevent curdling milkshake.
Serve the milkshake immediately because it may be curdled if kept for longer period.
Taste:
Refreshingly sweet and smooth.
Serving Ideas:
Top up blueberry milkshake with ice cream and serve as a dessert or just alone as a healthy breakfast drink.