Oreo Milkshake is a super easy shake to make at home with only 3 ingredients. Just blend milk, vanilla ice cream and a few oreo cookies together and the creamy Oreo Shake will be ready within minutes. The texture of the shake depends on the blending process. If you like creamy texture then blend it more and if you like little chunks of cookies then just pulse the blender a few times.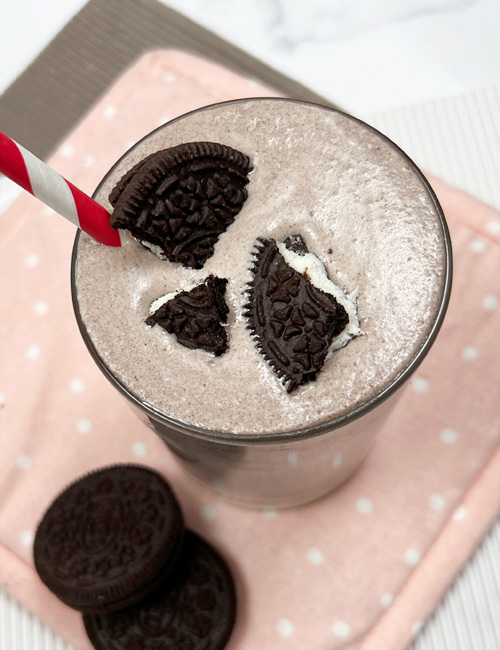 More Milkshake Recipes
Preparation Time:
5 minutes
Ingredients:
4 Oreo Cookies
1/2 cup Milk
1 cup (approx.4 Scoops) Vanilla Ice Cream or Chocolate Ice Cream
Directions:
Take all the ingredients to make milkshake.

Add 4 oreo cookies and 1/2 cup milk to the jar of a blender or a mixer grinder.

Add 1 cup (approx.4 Scoops) vanilla ice cream.

Close the lid and blend it until creamy or desired consistency. If you want little chunks of cookies in the shake then just pulse the blender a few times. Remove the lid and pour the shake into a serving glass. Chilled Oreo Shake is ready.
Tips and Variations:
Garnish the shake with whipped cream and crushed oroes or drizzle chocolate syrup inside the glass before pouring the shake.
Use the different flavored oreos like mint oreos to make mint flavored shake.
If the shake looks too thin, add more ice cream and if it looks too thick, add more milk.
Serving Ideas:
  Serve oreo milkshake in the afternoon during hot summer days.