Chikoo Milkshake is one of the easiest milkshake to make at home and can be ready within 5 minutes. This kids friendly shake is thick and creamy and requires only 3 ingredients – chikoo, milk and sugar. Just blend them together and the milkshake will be ready within minutes.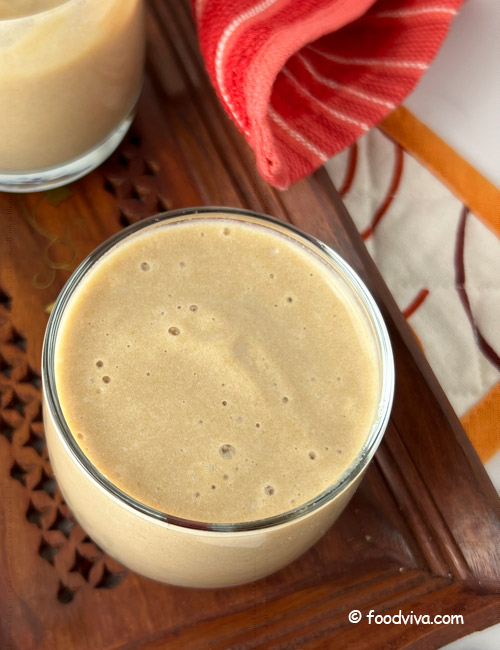 More Milkshake Recipes
Preparation Time:
5 minutes
Ingredients:
1 cup fresh or frozen Chikoo (sapota)(peeled and sliced)
3/4 cup Milk
2 teaspoons Sugar (or to taste)
Directions:
You can use either fresh or frozen chikoo according to availability. In this recipe, frozen chikoo are used. If you are using fresh chikoo then peel, deseed and chop them.

Take all the ingredients to make milkshake.

Add 1 cup chopped chikoo, 2 teaspoons sugar and 3/4 cup milk in the jar of a blender or a mixer grinder.

Close the lid and blend it until creamy. Remove the lid and pour chiku shake into one large or two small serving glasses.
Tips and Variations:
Add a few ice cubes to make the shake chilled.
Add a pinch of cardamom powder for a nice flavor.
Add 1/2 cup vanilla ice cream to make it more creamy.
Adjust the amount of sugar as per the sweetness of the chikoo.
This recipe makes two small glasses of shake. You can double or triple the recipe as per the requirement.
Serving Ideas:
  Serve chikoo milkshake in the afternoon during hot summer days.