Blueberry Smoothie with Milk Recipe
Blueberry Smoothie with Milk is a nutritious drink prepared from frozen blueberries, frozen banana, frozen strawberries, milk, sugar and ice. Discover how milk and other frozen fruits simply transforms the palatability and flavor of frozen blueberry smoothie by following this recipe.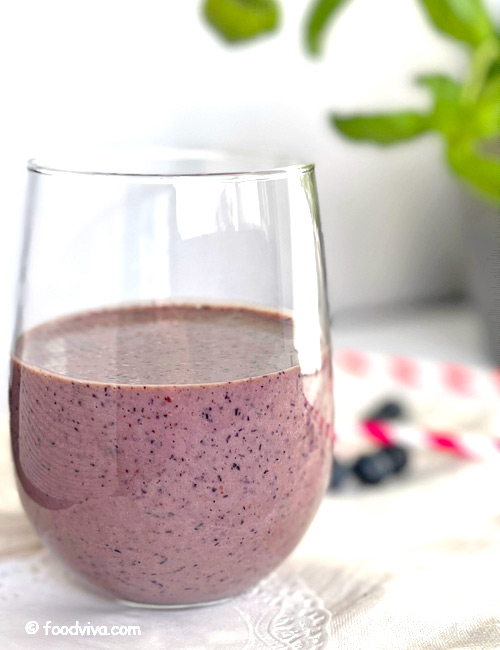 More Smoothie Recipes
Preparation Time:
8 minutes.
Ingredients:
1 cup Frozen Blueberries
1 Frozen Banana
5 Frozen Strawberries
1 cup Milk
1 tablespoon Sugar
4 Ice Cubes
Directions:
Peel and chop banana into slices.
Combine blueberries, banana pieces, 5 strawberries, sugar and milk in a blender. Blend until smooth.
Add ice cubes in blender and blend again on high speed.
Pour smoothie in glasses, optionally garnish with skewered blueberries on the rim and serve.
Tips and Variations:
Add 1/2 yogurt and 1/4 teaspoon cardamom powder along with other ingredients in blender for nice cardamom flavored smoothie.
Serving Ideas:
Since this smoothie is prepared with milk and frozen fruits, it is an ideal chilled drink for summer. Top it up with ice cream and serve it as a dessert.