Blueberry Smoothie without Yogurt Recipe
Blueberry Smoothie without Yogurt is chilled and nutritious beverage with a fruity mixture of blueberry, pineapple, peach, banana, orange juice, ice and sugar. The combined effect of orange and pineapple gives it a tropical feel while blueberries and peach provide nice summary sweet flavor. Even though this smoothie recipe uses so many fruits, it can be easily prepared at home in less than 5 minutes.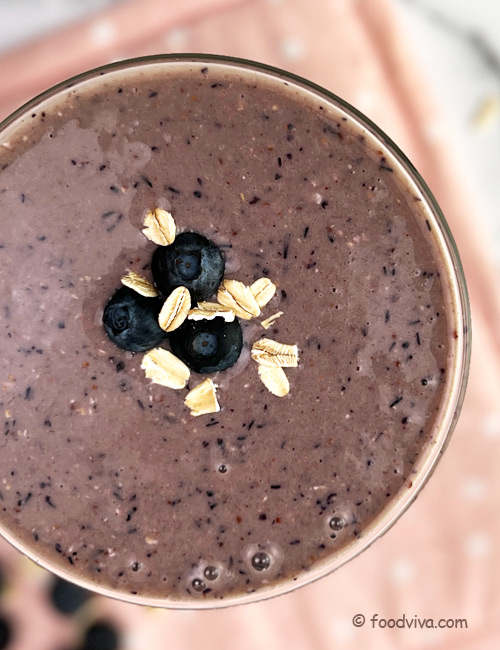 More Smoothie Recipes
Preparation Time:
5 minutes
Ingredients:
3/4 cup Frozen Blueberries
2 Frozen Peaches
2 slices Fresh or Canned Pineapple
1 Fresh or Frozen Banana
1 cup Orange Juice
1 tablespoon Sugar
2 scoops Vanilla Ice Cream
5 Ice Cubes
Directions:
Peel and chop banana into slices. Peel and pit peaches. Cut peaches into slices.
Blend blueberries, peach slices, banana slices and pineapple slices with orange juice and sugar using blender or mixer until smooth and there are no chunks of fruits.
Add ice cream and ice cubes and blend on high speed until slushy.
Yogurt less blueberry smoothie with orange, pineapple and peach is ready; pour it in chilled serving glasses.
Tips and Variations:
Add more orange juice if you like thinner consistency.
Replace sugar with honey and use fresh fruits instead of frozen one to make zesty smoothie without yogurt for kids.
Taste:
Mild sour and sweet
Serving Ideas:
Blueberry smoothie without yogurt can be served as chilled afternoon drink along with snacks.