Wild Berry Smoothie Recipe
Wild Berry Smoothie, a pineapple, wild blueberry and orange juice fortified berry smoothie, is simply outstanding. It's out of the world combination of multiple fresh fruits and juices with berry yogurt are surely going to give your taste buds a treat. Every sip of healthy smoothie is going to satisfy your burning desire to drink something cool. Try this recipe and make a drink of a life time.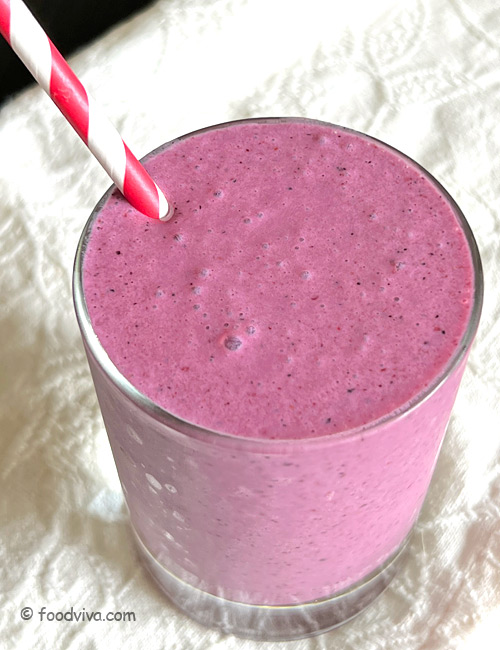 More Smoothie Recipes
Preparation Time:
10 minutes
Ingredients:
1 cup Pineapple Chunks
1/2 cup Blackberries
4-5 Strawberries
1/2 cup Raspberries
1/2 cup Wild Blueberries
1 cup Orange Juice
3 oz Berry Yogurt, Low Fat or Fat Free
4-5 Ice Cubes
Directions:
Take a blender or food processor and add pineapple chunks, blackberries, strawberries, raspberries, wild blueberries, yogurt, ice cubes and orange juice in a blender.
Blend until smooth texture has formed.
Check its consistency and add more juice to reduce the thickness or add more fruits to thicken to get your desired consistency. Blend it again until mixture becomes smooth.
Wild berry smoothie with yogurt is ready.
Pour it in chilled serving glasses, garnish witg mint leaf and fresh blueberries and serve with a large straw.
Tips and Variations:
Take fresh or frozen berries according to the season to prepare this beverage.
To make a slushy smoothie, add more crushed ice cubes.
Freeze all fresh fruits and berries before starting to prepare it. This will give more finely grained texture to smoothie and will not require crushed ice. This in turn will not dilute the taste and flavor of fresh fruits.
Taste:
Sweet and tangy natural taste of berries with crushed ice.
Serving Ideas:
This berry drink can be served at any time of the day. It is an ideal summer drink to beat the heat and enjoy the god gifted nutrient rich berries and fruits.