Glowing Green Smoothie Recipe
Glowing Green Smoothie, a beverage made from raw green vegetables and fresh fruits is packed with nutrients, minerals, vitamins, and dietary fibers. This detoxifying smoothie not just helps making your skin glow but also cleanses and improves your digestive system. Follow this easy recipe of smoothie to give your body a well deserved dose of nutrients and treat to your taste buds.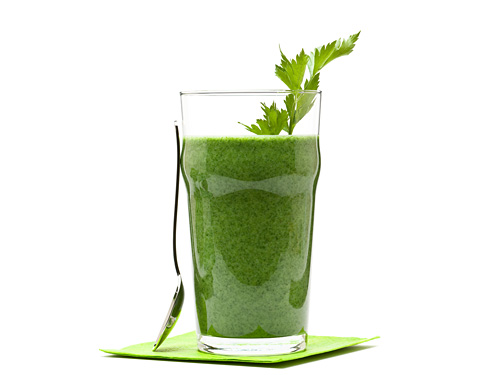 More Smoothie Recipes
Preparation Time:
5 minutes.
Ingredients:
1 head Romaine Lettuce, chopped
1 cup chopped Spinach
3 Celery Stick, chopped
1 Banana, chopped
1 Green Apple, cored and chopped
1 Peach, cored and chopped
1/4 cup chopped Cilantro
1/2 Lemon
1/2 cup Water
Directions:
If possible, take organic fruits to make a healthy beverage.
Start by blending lettuce, celery, cilantro and water in a blender until smooth.
Add apple, peach and spinach and blend it again until smooth.
Finally add banana and squeeze out lemon juice over it and blend until smooth and frothy texture.
Glowing green smoothie is ready. Pour it in chilled serving glasses, garnish with cilantro and serve for immediate consumption.
Tips and Variations:
Adjust quantity of fresh lemon juice to increase or decrease the tartness of smoothie.
Taste:
Delightfully soothing sweet and sour taste of fruits and vegetables.
Serving Ideas:
Start your day by drinking it in the breakfast and keep your skin glowing through the day. Calm your senses and body in summer, have chilled smoothie to beat the summer heat. This drink retains all nutrients and does not have high fat levels making it ideal drink for weight-loss diets.